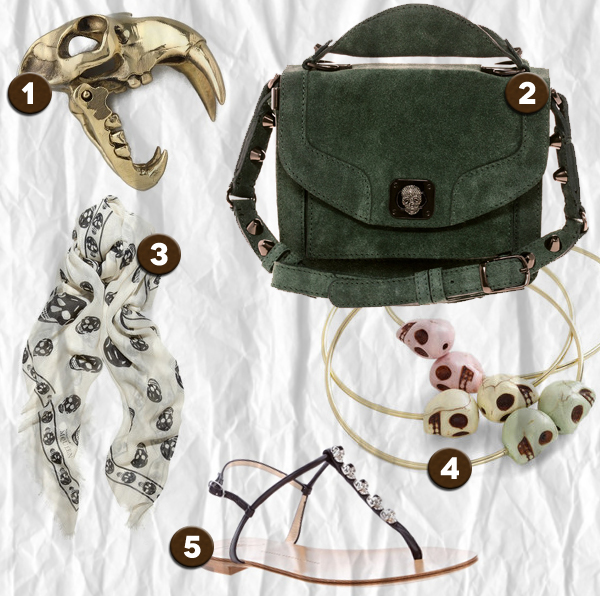 While the skull trend has been around for quite a while now, it seems as if it's not fading away anytime soon, and here at MO, we're happy about that!
Long thought of as dark and morbid, skulls have managed to make quite the statement within the fashion industry.  Alexander McQueen helped kick start the trend by brandishing skulls on everything from jewelry to clutches to make for eye-catching pieces.
For Fall 2012, Prabal Gurung embraced the trend and incorporated skulls reminiscent of Georgia O'Keeffe's beautiful paintings in his collection.
Edgy label Stolen Girlfriends Club dedicated their entire Fall collection to skulls and featured them in an array of designs including on the boot heels.
Whether your style is tough and edgy or soft and feminine there's a perfect skull embellished accessory to compliment your wardrobe.   We've chosen our favorite statement pieces to help you achieve a look that is anything but macabre.
Accessory Links:
1. Monserat De Lucca saber skull ring
2. Zadig & Voltaire Shala Satchel
3. Alexander McQueen skull-print scarf
4. ModCloth Skull of Thought bracelets
5. Giuseppe Zanotti leather sandal
Tags:
Alexander McQueen
,
Georgia O'Keeffe
,
Prabal Gurung
,
Stolen Girlfriends Club