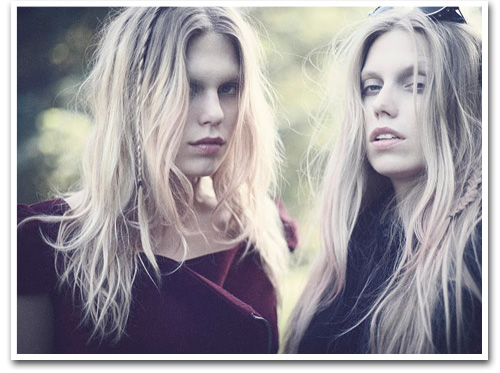 Courtesy Photo. Eleven Paris F/W 2011 Ad Campaign with Theodora and Alexandra Richards.
For their Autumn/Winter 2011 campaign, French label Eleven Paris signed multiple rock n' roll progeny such as Lizzie Jagger, daughter to Mick Jagger; Zoe Kravitz, daughter to Lenny Kravitz; and Theodora and Alexandra Richards, daughters to Keith Richards.
The blonde and willowy Richards sisters (also daughters of Patti Hansen) were at the forefront of the campaign.  Advertisements featured the girls with the pierced, tatted, and sometimes rocker Ash Stymest.
The girls vogued and Stymest snarled while lying on coffins amidst fields of grass like a cut scene from "Easy Rider."
Eleven Paris has proclaimed that it is the brand's mission to "rockalize the world,"  and teaming up with the aesthetically-blessed fruit of some of rock's greatest loins is a sincere and hip step in the right direction.
Both Alexandra and Theodora are long-time runway and print models and have been active in the industry since their teens. Theodora in particular channels her famous father's cool gaze and pout reminding us that before banging heroin and growing old, Keith was a hottie.
Continuing in their rock daughters' tradition, it was announced in November 2011 that Terry Richardson would be photographing the Spring/Summer 2012 campaign featuring Stymest with Tali Lennox, daughter of Eurythmics' Annie Lennox.
A recent entry on Eleven Paris' official blog featured a short film on the shoot.
---

Sinta Jimenez is currently obsessed with Opening Ceremony collaborations, Band of Outsiders, warabi mochi from Temari Cafe, meteor showers, and finding a Jeff Buckley soul with a Jason Segel sense of humor.
All author posts