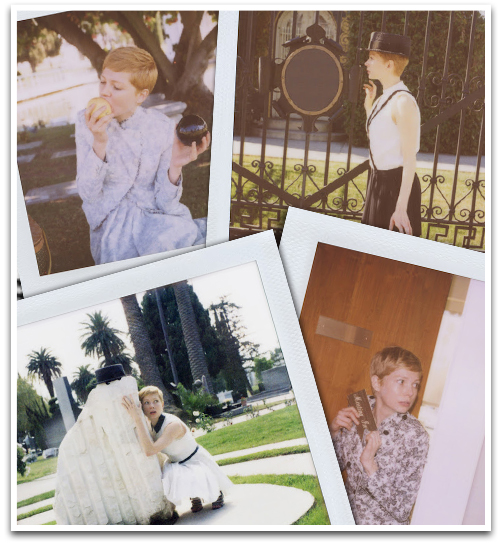 Courtesy photo via Band of Outsiders
I've been keen on Michelle Williams' street style for a long time. Her peacoats and duck shoes, slim ankle jeans, blazers, and micro-printed dresses combine schoolboy basics with a feminine retro whimsy.
Her campaign for Boy. By Band Of Outsiders launched yesterday, and the brand has found, perhaps, their most perfect model embodying the spirit of the line as a bright recontextualization of traditional and retro menswear for women.
Like previous campaigns, the photos are Polaroids that have been washed out in the iridescence of sunlight, taking Williams out of the new and putting her into decisively dated days.
There are a good number of photos in the collection—notable adorableness are the ones of her in an old-school hearse wearing a sleeveless peter-pan collared blouse and black suspenders while playing with an oversized black men's porkpie hat.
The photos continue to show her frolicking through Hollywood Cemetery and attempting to dig up Hitchcock's grave.
Indoor shots feature Williams amidst dusty file cabinets looking through library catalogs in search of, perhaps, the next clue to a Wes Anderson plotline.
Based on the campaign, the spring Boy. By Band Of Outsiders line has plenty of pretty floral printed blazers, cap-sleeved dresses, and accessories (stolen from the boy's closet) in store.
You can view the entire campaign here.
---

Sinta Jimenez is currently obsessed with Opening Ceremony collaborations, Band of Outsiders, warabi mochi from Temari Cafe, meteor showers, and finding a Jeff Buckley soul with a Jason Segel sense of humor.
All author posts