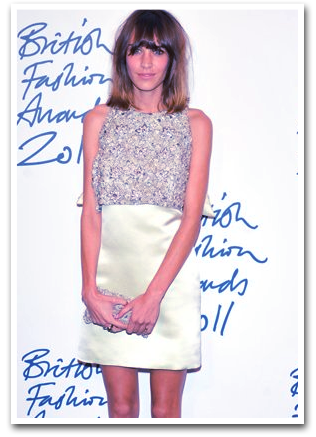 Model, fashion journalist, current host of 24 Hour Catwalk and best-dressed list occupier, Alexa Chung was announced by the British Fashion Council as the official face for emerging British talent.
Her new role as Young Style Ambassador will include the duty of promoting British fashion talent, both up-coming and already established, globally by appearing at BFC key events, such as London Fashion Week,  the British Fashion Awards and, of course, for cultural platforms during the Olympics.
Chung, a self-professed admirer of her fellow peep's fashion tastes, says she's proud to be a professional promoter of British talents and states that when traveling between London and her new home in New York, she tries to wear British Labels like, Christopher Kane, Erdem, J.W. Anderson and Peter Jensen( her current faves) as often as she can.
In addition to that, Chung has a resume that makes her one of the most accomplished fashion jack-of-all trades. Her past jobs span all areas of the industry,  such as a writer (Vogue), model (Lacoste, Pepe, DKNY jeans, Superga), designer (Madewell), muse (Mulberry, Charles Anastase), TV presenter/reporter (Frock Me, Thrift America, 24 Hour Catwalk) and ambassador (Chanel and BFC)—all of which she seems so modest about.
However, if there's one thing she isn't modest about, it's expressing how gutsy Brit designers are. She states, "Brits aren't afraid to experiment or take risks with how they look, perhaps that's why London has always been home to the most dynamic and daring designers in the world."
With iconic fashion names like Alexander McQueen, Stella McCartney, Vivienne Westwood, I'm sure we can all second Alexa on that one.