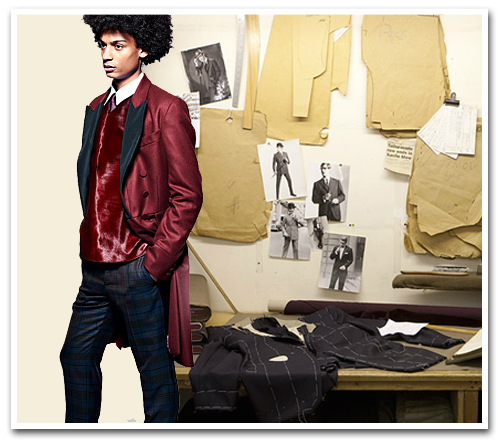 Left photo: McQueen F/W 2012 (Imaxtree) Right photo: Courtesy of Hunstman
The Alexander McQueen brand is going back to basics with a presence at Savile Row (again)—the street where it all began—as it teams up with Buckingham royal tailors H. Huntsman and Sons in a partnership to create a bespoke service for men.
This inaugural run will offer clients three options: a Victorian styled single-breasted dinner jacket, Prince of Whales checked suiting that is complete with breeches and silk-embroidered lapels, and a black cashmere double-breasted overcoat—all of which was seen in the Alexander McQueen Men's Fall 2012 presentation earlier this week.
This partnership isn't a first. In 2002, the tailor shop and English brand collaborated for a short-lived bespoke collection that created avant-garde looks that combined East and West end London styles in sharp tailored pinstripe and herringbone suit forms.
Huntsman is known to make some of the most expensive tailored suits on Savile Row, and this collaboration is no different. Buyers can expect to pay from $6,930 to $7,700 for this made-to-order brand and can expect it to take 12 weeks to create.
While creative director Sarah Burton says that this was a natural move for the brand considering that it already provides couture for women, we cannot forget that the late Lee McQueen himself had apprenticed under fellow Row tailors Anderson & Sheppard, the tailors to Prince Charles.
The then 16-year-old  McQueen was remembered to have secretly scribbled graffiti into the linings of multiple suits for the King-to-be, officially deeming the young tailor as a Savile Row Rebel. Let's hope that this partnership's designs will live up to that spirit.