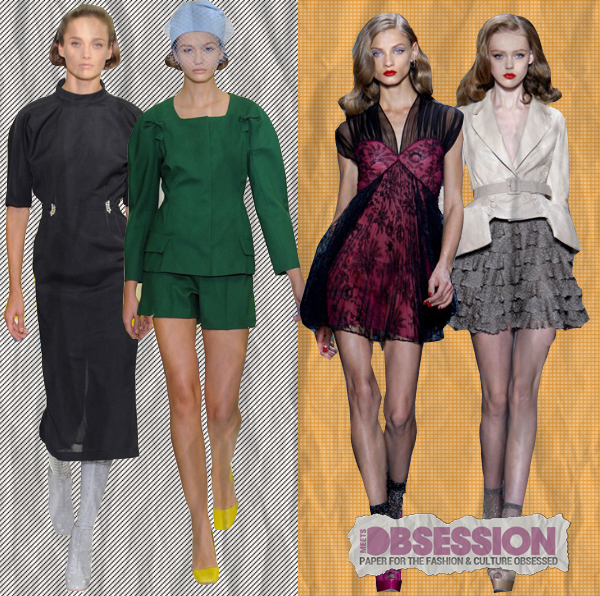 Left to right: Spring 2012 Jil Sander collection under the direction of Raf Simons (Yannis Vlamos / GoRunway.com), Spring 2010 Christian Dior collection under the direction of John Galliano (Monica Feudi / GoRunway.com)

After much speculation, the Parisian fashion house, Christian Dior, made an announcement that was heard around the fashion world. After a year long pursuit, Christian Dior has filled one of the fashion industry's most high-profile positions.
Following the dramatic departure of John Galliano, Christian Dior has hired Belgian designer Raf Simons to replace Galliano, who was fired after a drunken racist and anti-Semitic outburst at a Paris cafe.
As the artistic director, Simons will be at the creative helm of the women's ready-to-wear and accessories line. As the whispers and speculations subside, the masses can now focus on the outcome of this decision, and what changes could lie ahead for the legendary French couturier.
Many fashion insiders question whether the arrival of Simons at Dior will mean the exit of the audacious and profoundly feminine diction that the collection is known for.
Since its inception in 1946, the label became eponymous with classic style and irreproachable attention to detail, quickly becoming infamous for creating the "new" shape for women, characterized by a full-skirt, large bust and cinched waist.
The appointment of Simons, a designer known to lean towards effortless and minimalist designs, could make or break the fashion house that has seen whimsical and flamboyant designs the past fifteen years under the direction of Galliano.
Simons is the antithesis of his predecessor, he is not the larger than life designer that has a tendency to overpower the clothes.
Under the reign of Simons, Dior can represent a more introverted interpretation of haute couture.
Simons, who comes from fashion house Jil Sander, can usher Dior into a new era of understated romance and elegance. He can be a champion for the "less-is-more" approach and demonstrate that high fashion can be stripped down to a modest and tasteful form of luxury.
Having studied industrial design, Simons can actualize the concepts of femininity and female reality into his designs. He has the skill set to marry the heritage of Dior's traditional frilly femininity with his minimalist aesthetic.
Simons has the technical skills necessary, like being able to reconstruct a garment—such as a corset shape—but his use of transparency will make a piece move fluidly without constriction.
Presenting a more restrained approach will encompass Simon,  taking signature Christian Dior silhouettes and loosening them up.
In a departure from the theatricality of the past, we should expect to see featherweight pieces and delicate layering under the direction of Simons.
He has already carved out a niche as a stylish innovator, and in time, he will show that he can invigorate the brand and use the runway to express the concepts and values that define Christian Dior.
Tags:
Christian Dior
,
John Galliano
,
Raf Simons