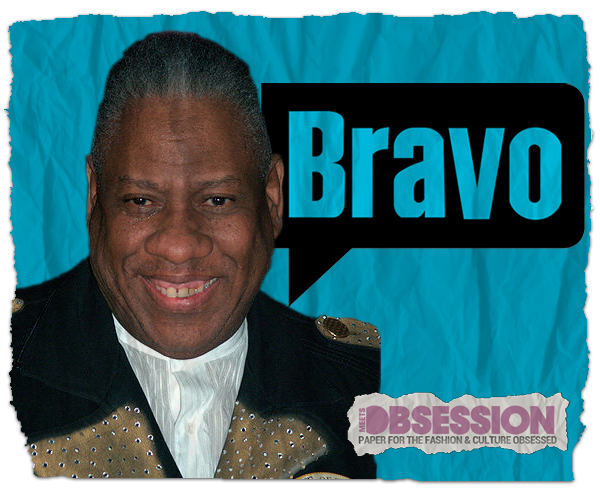 Photo: David Shankbone
[divider]
The world is now complete.
A fashion show where designers compete? Check.
What to wear shows? Check.
A Tim Gunn show? Check.
Now, the Andre Leon Talley has his own show, which means that my life is now complete.
According to a press release issued by Bravo, Talley is returning to TV in the new Bravo show (working)  titled, "Fashion Stories of NYC."
The former Editor-at-Large of Vogue magazine is no stranger to television; he had some stints at judging alongside Tyra Banks on the hit series "America's Next Top Model."
On "Fashion Stories," Talley will be a mentor to four design teams as they create the collections of their lives for a chance to "create, show and sell" their pieces in NYC.
It sounds like any other fashion reality show that we've already seen, but in a more epic proportion.
With all the fashion shows like Lifetime's "Project Runway," and the new "24 Hour Catwalk" alongside  NBC's "Fashion Star," there's no doubt that fashion reality has been dominating the airwaves and portraying the world of high fashion as just glamorous, neglecting to show the harsh realities outside of the design room.
The Center for an Urban Future recently ran a study that found that the enrollment in fashion and design programs have increased by 34% in the last decade. It would be believable to say that the trend is parallel to the success of "Project Runway" and other reality fashion shows have had in the last couple of years.
But it seems many students are blinded by the glitz and glam that reality TV portrays during the design process. Often, fashion reality shows neglect to reveal that there are other aspects of this business that is, quite frankly, hard work.
New York Daily News interviewed a recent fashion graduate who was "shocked by the realities of production" and cried at her failure to find a manufacturer.
This is one of the realities of the fashion world that reality TV has failed to portray. Important business skills like applying for patents and negotiating deals are things that few fashion schools fail to prepare students for.
Talley's new show is a fresh take on the fashion business because it's brutally honest. The designers are already "established" and have jobs, but based on the show, they're still struggling. That doesn't get any more real.
The new show will be a part of Bravo's new upcoming line up of pop culturally diverse shows of fashion, cooking, and business.