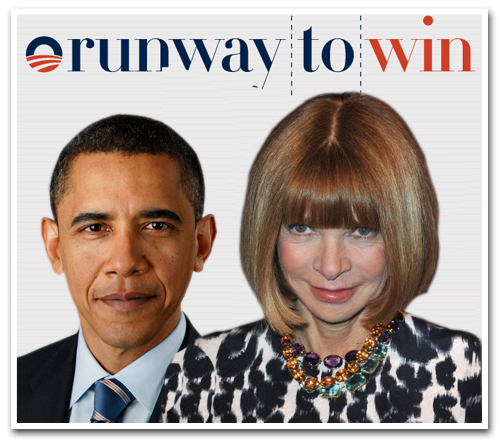 It would appear that the fashion industry has a clear bias in the donkey vs. elephant debate.
Vogue Editrix Anna Wintour has rounded up some of fashion's heaviest hitters to rally behind Barack Obama in the 2012 elections.
While Wintour's political preferences have been no secret, this time around, the godmother of fashion has recruited 22 designers, who include Alexander Wang, Diane Von Furstenburg, Jason Wu, and Marc Jacobs – to lend a few of their designs to the Obama Victory Fund.
This Thursday, each participating designer's Obama-endorsed merchandise—which will include t-shirts, tote bags, scarves and wristlets—will go on sale at runwaytowin.com in an effort to raise funds for the Obama Victory Fund.
In addition to her retail endeavors, this February, Wintour will be hosting the "Runway to Win" event, the follow-up to her 2008 "Runway to Change" initiative. Actress Scarlett Johansson is also confirmed to co-host the fundraiser.
While Anna Wintour has taken a clear stance on the 2012 elections, designers under the Louis Vuitton Moët Hennessy (LVMH) group were initially warned to stay away from the controversy that could surround such a public political event for fear of estranging themselves from Republican consumers.
Although Donna Karan heeded their warnings, Marc Jacobs did not, and collectively all designers and executives involved in the Obama Victory Fund have contributed almost twice the amount of money they did the first time around, including Wintour, who has already raised in excess of $500,000 for Obama's 2012 campaign.
---

Saron is a writer and student born in Ethiopia and raised in Washington, DC. She is incapable of keeping a phone for longer than a few months, exclusively wears Miss. Dior Cherie, and her guilty pleasures include any novel written by V.C. Andrews (don't judge), Essie's "Little Brown Dress", and Stoli. She is currently obsessed with the poetry of Edmund Wilson and The Arctic Monkey's latest album "AM".
All author posts