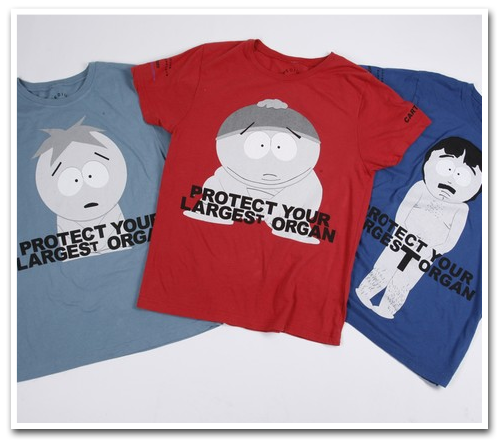 Remember when sex bombs Naomi Campbell, Dita Von Teese and Victoria Beckham posed nearly naked on a Marc Jacobs t-shirt in an effort to promote and benefit the Interdisciplinary Melanoma Cooperative Group at New York University?
Well, sexy has just been replaced with funny in Jacobs' latest line of t-shirts for the charity.
South Park characters Eric Cartman, Randy Marsh, and Butters Scotch are the latest campaign models to grace the t-shirts for Jacobs' "Protect the Skin You're In" campaign.
The shirts are sold in three colors: red, blue and grey, and on the front of each one,  a South Park character is posed nude with strategically placed text reading "Protect Your Largest Organ."
Sadly, one character missing from the line is Kenny, who was vetoed by Trey Parker and Matt Stone.
Robert Duffy, President of Marc Jacobs, said to WWD of their experience working with South Park creators Trey Parker and Matt Stone, "They're very, very cautious about collaborations. We've worked with so many artists in the past, and I'd say Trey and Matt are the most protective of their brand. They were so involved, to the point of wanting to know the texture of the T-shirt and how thick the paint is on the silk screen."
To support the Interdisciplinary Melanoma Cooperative Group, or to just wear a really cool t-shirt, you can purchase the $35 charity shirts online and at Marc by Marc Jacobs boutiques.
---

Bridget is a writer, stylist, and vintage clothing dealer based in Kennett Square, Pennsylvania. Bridget enjoys spending time with her boyfriend and guinea pig, and in her spare time sells vintage at local flea markets . Bridget is currently obsessed with Zooey Deschanel's wardrobe on New Girl, Moroccan food, and microcars.
All author posts