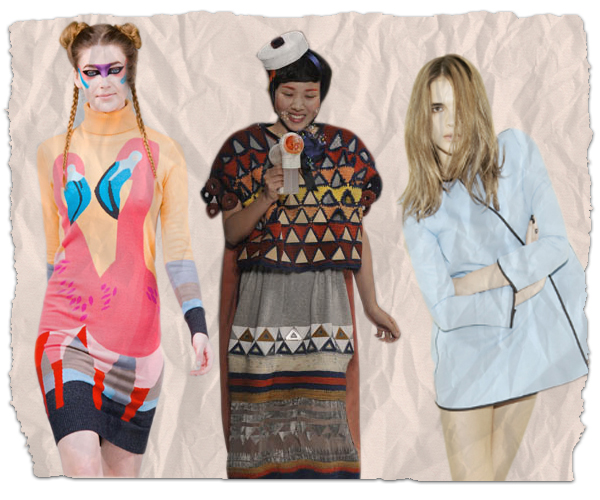 Left to right: Yang Du (photo: Geoff Pugh), Momo Wang 2011 Press Show Presentation (credit: courtesy of Central Saint Martins), Huishan Zhang S/S 12 (courtesy photo)
[divider]
[dropcap]I[/dropcap]t's no secret that China leads the innovation revolution in the areas of science and technology, however, in fashion, Europe has always been the clear leader.
And like so many other industries, an evolution is taking place—one that has many fashion designers hailing from China taking the sartorial lead.
The world began to take notice of Chinese designers when New York-based designers Alexander Wang and Philip Lim came to prominence in recent years. But it wasn't just getting the rest of the fashion world to take notice—China realized that they too could become a dominating force in the fashion world.
In the midst of the many developments and cultural revolutions, young upcoming designers from China were united by their love for fashion and a desire to study at one of the world's most prestigious fashion institutes: Central Saint Martins College of Art and Design.
Now, years later, these designers are moving among the ranks, and everyone is starting to take notice.
Recently, UK Telegraph fashion columnist Tasmin Blanchard met with four emerging designers from China who all landed in London to attend the prestigious university.
Blanchard spoke with the aspiring designers to learn about their trials and tribulations before, during and after their enrollments in one of the most coveted fashion programs.

Yang Du (credit: On|Off Paris)
[divider]
Surrealist designer, Yang Du is thirty-three years old, but elements in her aesthetic and interests match those of a preteen.
That's not to say that her designs are puerile, when they are in fact fantastical and quirky—which was made apparent in her A/W 12 owl motif inspired collection show at Paris Fashion Week.
Du certainly had the privilege to showcase her collection at one of the fashion week big four—New York, Milan, Paris, London—but that did not come without trials and tribulations. She was rejected from a MA program and consequently did not make the cut to show a collection for the Master's program.
Momo Wang, who was awarded 2nd place for Central Saint Martins' BA (Honours) Fashion 2011 press show, originally majored in a subject that she did not care about. She describes most students as not having an idea of what they want to do—but she secretly has always wanted to work in fashion.

Designer Momo Wang walks with models at the closing of her 2011 Press Show Presentation (credit: Courtesy of Central Saint Martins)
[divider]
She bought a sewing machine and practiced by making bags and skirts for her friends, and she was simply happy. Fortunately, her parents supported her and paid for her to go to London to study the fashion print course.
Her graduation collection reflected her hippie, artisan aesthetic in well-crafted, folky colorful designs.
Her plan now is to make another collection on her own.
Huishan Zhang is largely ambitious, and like many aspiring designers, John Galliano and Alexander McQueen are his idols—but for Zhang, he had to study at the place where they crafted their skills.
In his second year at Saint Martins, Delphine Arnault, director of the luxury conglomerate LVMH, chose him for  a 6-month internship at Dior to learn the ins-and-outs of haute couture.
His aesthetic is a conglomeration of east-meets-west, which was shown in the dresses he made for his spring/summer collection—one of which has already been worn by Gwyneth Paltrow.

Huishan Zhang AW 11 (courtesy photo)
[divider]
In addition to making a collection that represents who he is, the young designer has dreams of making a luxury brand that puts China on the fashion map. He already has solidified deals with factories in China to create limited runs.
These are just a handful of designers that represent a new generation of change that China has endured in the last couple decades.
With political feuds going back since the late 60s to the early 70s , which created a divide between Beijing and Hong Kong,  coupled with the country's "one-child policy," it appears that the once "practical" nation is now taking risks—at least in this current generation.
This mentality is seen in the innovative, risk-taking art, architecture and fashion that have been produced over the past years—and it shows no sign of stopping.
Fashion and design largely reflect the times it was developed from. But in a world like China, which is a world  largely different from ours, we look forward to seeing what may be on the horizon for China's emerging talents.