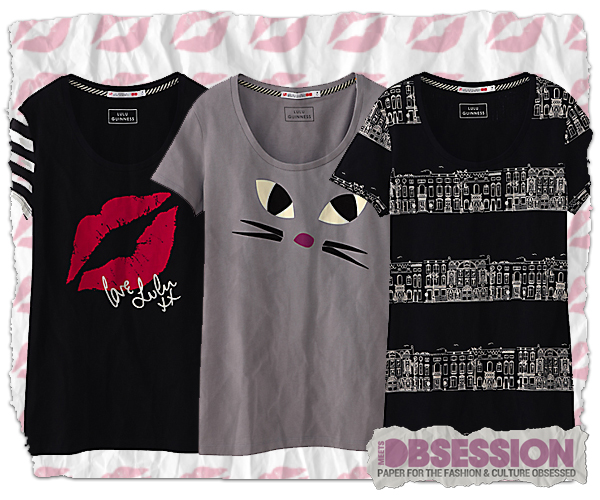 Who doesn't love a Lulu Guinness signature lip-shaped bag?
Producing other accessories, like key chains, wallets, umbrellas and luggage, Guinness's fun and often quirky accessories with signature lipstick prints are on the must-have list of almost every fashionista.
And if you've been dying to wear Lulu Guinness designed apparel, the wait is over.
Lulu Guinness has teamed up with Uniqlo to design 12 tees using her signature red, black, and white color palette.
The Japanese mega-retailer has stayed true to Guinness' funky aesthetic working with prints of all types including lips, cats, cameos and sunglasses!
And at only $19.90 each, the tees are very reasonably priced. Buy one or buy them all, as each tee is sure to be a conversation piece.
We'll be stocking up on the cameo print tee as well as the cityscape meets Brooklyn tee.
The collection is available today in Uniqlo stores.
---

Bridget is a writer, stylist, and vintage clothing dealer based in Kennett Square, Pennsylvania. Bridget enjoys spending time with her boyfriend and guinea pig, and in her spare time sells vintage at local flea markets . Bridget is currently obsessed with Zooey Deschanel's wardrobe on New Girl, Moroccan food, and microcars.
All author posts