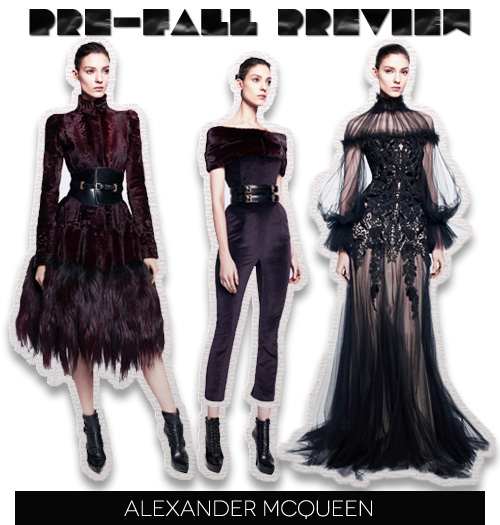 Despite reviews and fervent professions of love from writers, editors and customers, there was always a sort of museum hush around the collections designed by McQueen himself.
Rarely were his pieces less than higher art, and it's comforting to see the way in which Sarah Burton is solidly carrying on with his line. There hasn't been a hiccup yet, and for this year's pre-fall line she has picked an aesthetic—theatrically dramatic, of course–and run with it successfully.
She isn't afraid to deviate a bit from the house's iconic silhouettes, though, and worked her dresses' horizontals as well as their verticals.
The results range from gossamer gowns that seemed to have been sketched over the models to sharply heavy Deco lined tailored suits and tea-length velvet brocade dresses.
Rather than appearing to play to (or be dictating) trends, the line achieves the new timelessness that has always produced reverent gasps.
The only thing Burton seems to have neglected is the footwear, opting for universal (in the McQueen universe) pointed patent leather booties for all of the looks. But that could just mean she's saved her shoe-energy for the fall showings.