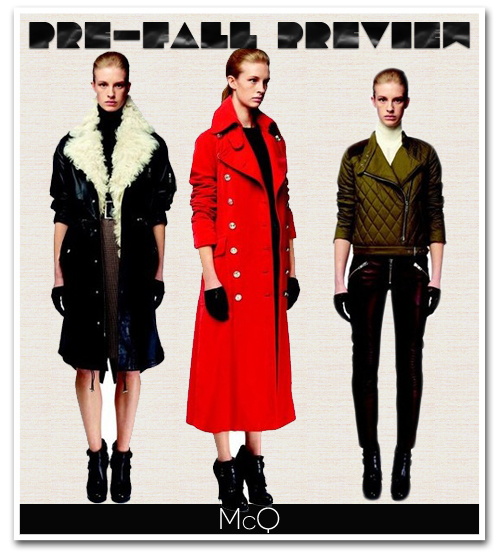 It's been over a year since it was announced that Alexander McQueen would be regaining control of McQ—the younger and more affordable sister line—after the expiration of 5-year licensing agreement with SINV SpA.
Having produced a spring/summer 2011 collection as their last under the agreement, the pre-fall 2012 collection brings the departure of SINV and the arrival of a new team under the leadership of Alexander McQueen creative director Sarah Burton.
Burton breathes much-needed fresh air into the line by producing a pre-fall collection that reminds us of why we love McQueen.
Inspired by the 1967 film adaptation of Thomas Hardy's "Far From the Madding Crowd," the latest McQ collection is comprised of pieces that nod to aristocratic country pursuits. Victorian tailoring, ruffled blouses, bustier dresses, long coats in felted wool, and lace prints can be found in the mostly romantic collection, but in typical McQueen style, the looks include modern zippers, chains, and leather half-gloves that add a welcomed punk, edgy balance.
The collection is mostly colored in hues of simple and muted blacks, whites, and greens with the exception of some red jackets and sheaths as well as a mauve floral printed cocktail dress.
It is evident that the strong lead of Bathsheba Everdene, the heir to her uncle's farm, has inspired this collection filled with utilitarian looks such as an army green quilted motorcycle jacket as well as a green anorak.
This February, McQ will show for the first time at London Fashion Week, and with such a strong revival of the line in Burton's pre-fall collection, we can't wait to see what's in store next month.
---

Bridget is a writer, stylist, and vintage clothing dealer based in Kennett Square, Pennsylvania. Bridget enjoys spending time with her boyfriend and guinea pig, and in her spare time sells vintage at local flea markets . Bridget is currently obsessed with Zooey Deschanel's wardrobe on New Girl, Moroccan food, and microcars.
All author posts