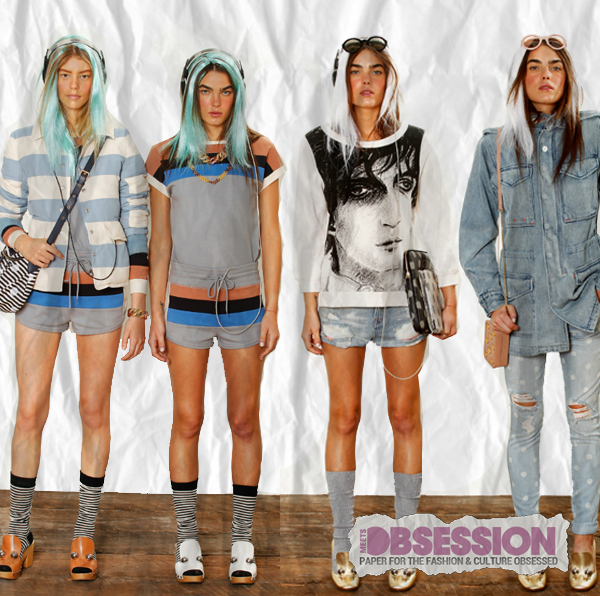 Abstract camouflage and stripes are the main subject of the Marc by Marc Jacobs Resort 2013 collection.
With a collection that gives an enthusiastic nod to the 90s, Jacobs' latest offers a mishmash of textures, such as leather, neoprene, and acid wash denim, and muted prints that include florals, plaid, herringbone and sequin stripes.
Besides the long dresses with varying lengths of sleeves, there are also standout looks featuring modern yet demure pantsuits and short suits with coats to match.
Among the models styled with blue, white and fluorescent green dyed hair reminiscent of hair worn during the 90s grunge period, one model wears a Jacobs' self-visage sweatshirt, which was made from a portrait sketch of his younger self by Elizabeth Peyton.
Jacobs' manages to create a cohesive collection that not only pays homage to the 90s, but influences from the 60s, 70s, 80s can be found within some of the pieces.
One can almost imagine Jacobs sitting in his studio designing every last detail of the looks, including the shoes and bags.
Reminiscent of the 70s, the clog-like shoes were bejeweled with an abstract heel — also, a collection of two-tone oxfords are seen throughout the collection.
The bags, ranging from clutches to totes, added yet another layer of depth to the the collection.
---

Bridget is a writer, stylist, and vintage clothing dealer based in Kennett Square, Pennsylvania. Bridget enjoys spending time with her boyfriend and guinea pig, and in her spare time sells vintage at local flea markets . Bridget is currently obsessed with Zooey Deschanel's wardrobe on New Girl, Moroccan food, and microcars.
All author posts