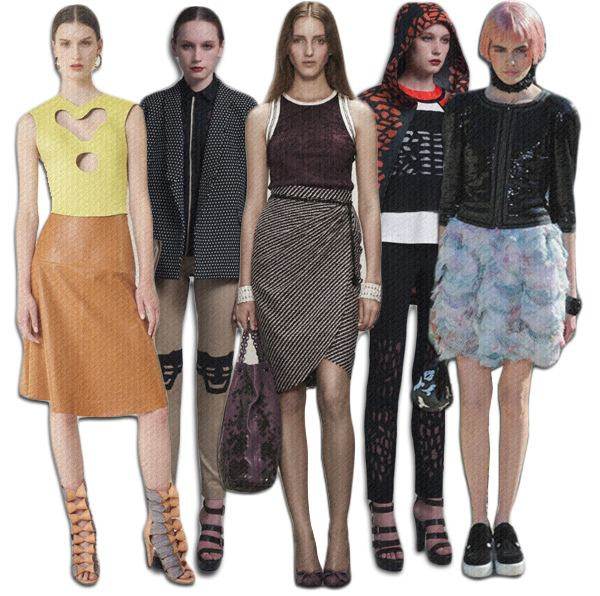 Resort 2013 collections have once again hit the runway with a full-scale fashion moment. The in-between season has become known for its chic go – to items for the summer. This season's top looks from star designers and veteran design houses evoked all the glamour of jet setting and lounging poolside.

Vivienne Tam
Vivienne Tam has mastered the art of tailoring. For resort 2013, she has created a collection full of fitted lightweight separates and dresses that are truly works of art. With crisp whites, subdued hues of black, gray, and khaki, and a modest touch of orange, Tam confirmed that opposites very much attract.
Many of the dresses featured fabrics and treatments, like intricate geometric symbols and embroidered tribal graphics, that helped serve as a contrast to the otherwise simplistic pieces. Skinny black trousers with obscure mesh cutouts, hooded jackets with explosive prints, and patterned tank dresses reminiscent of '70s sportswear offer an elegant yet wearable look.

Marchesa
Marchesa's rendition of resort wear is a breath of fresh air, literally. Georgina Chapman and Keren Craig sent out a chorus of full-skirted party frocks and slim evening gowns, ideal for an elegant garden soiree.
They showed a rainbow of pastel shades, with lace, crystals, and silk. Attention was paid to classic draping, and incorporating asymmetric single-shoulders. Known for slimming dresses that cascade into frothy clouds of tulle, Marchesa has kept its aesthetic of embroidered and shimmering silhouettes while balancing an effortless and simple touch for summer.
 
Balenciaga
Another beautifully conceptualized collection has emerged from Balenciaga. The perfectly styled presentation is light and flowing, evocative of organic and naturalistic imagery. Balenciaga's ballet-inspired Resort collection is feminine, without being overly ornate. The collection speaks directly to the mood of the moment. Structured cropped tops and wide-leg pants are must haves from the line-up. The elongated, effortlessly chic silhouettes are perfect for the calm of the season.
 
Chanel
The Chanel resort collection at Versailles featured couture that was most certainly fit for a queen. Inspired by the paintings of Antoine Watteau, it drew on the seductive and feminine.  The pomp and ceremony necessary to create a modern day collection with a touch of the Marie Antoinette included pastel-colored full skirts, pannier dresses with ruffled white lace tiers, eighteenth-century gilded jackets, denim outfits with golden embellishment, and the signature Chanel bouclé.
 
 Bottega Veneta
An experimental color palette of butter yellow, pale peach, and pistachio, was a risk worth taking for Bottega Veneta. The blend was a bold mix of colors, yet still appropriate for the fresh feel of summer. The collection is rife with pure sophistication, with head to toe fitted pieces made to compliment each other, and complete with matching shoes and bags. Characterized by sharp and loose silhouettes, the collection emphasizes sporty and wearable separates. Outerwear was also a strong point, with double-breasted peacoats and tracksuit inspired jackets.
[divider]
Courtesy photos. Chanel photo (Yannis Vlamos / GoRunway.com)