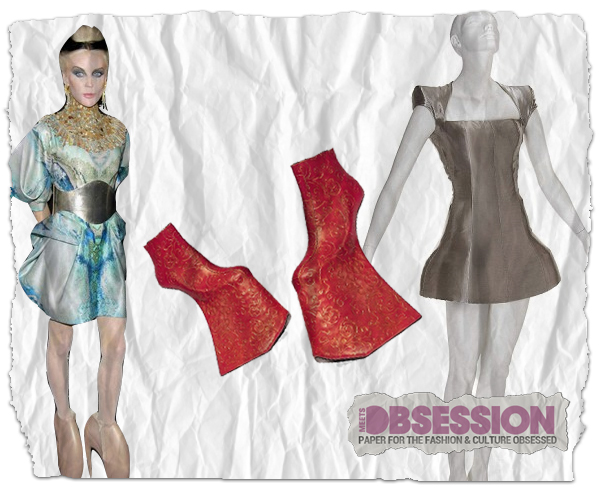 Socialite and artist Daphne Guinness is never short of antics. From her Lady Gaga-like fashion choices, to her crazy statements, like "never eating until she's dead"—one can easily agree that she's a bit of an exhibitionist.
But spectacle aside, there's also her notable charitable side, such as her upcoming fashion auction.
Guinness has donated some of her beloved fashion pieces that we've seen her wear throughout the years to help raise money for charity.
Some of the pieces up for auction will include Guinness' Christian Lacroix bubble dress, a Christopher Kane white dress embellished with Swarovski crystals, a silver dress by late designer and friend Alexander McQueen, and a collection of her heel less shoes by Norita Tatehana. In other words, the wardrobe of the 21st century is up for grabs.
The prices will start at £300, while other pieces like the McQueen dress could range from £15,000 to £20,000.
All of the proceeds will go to the recently founded Isabella Blow Foundation, made in honor of her late good friend, which is dedicated to supporting young art and fashion talent—an endeavor Guinness greatly supports.
The auction itself will be held at Christie's South Kensington. Though, this is not Guinness' first time dealing with the auction house.
In an effort to stop a 2010 Christie's auction held to settle the late Isabella Blow's estate, Guinness purchased the entire lot of 100 of Blow's iconic pieces to preserve it in its entirety.
The auction is not only a testament to Guinness and Blow's impact on fashion, but it's also a reminder of why it's important to support the arts. It's important to nurture and support talent that may not have a platform to showcase their work—after all where would the late Lee McQueen be without Isabella Blow?
If it weren't for support like that, the fashion world would have never known the revolutionary talents of McQueen.
Guinness' lot will go on display to the public from June 23 – 27, followed by an auction on the 27  at 7:00pm.
The entire catalogue will be available online for public viewing starting in mid May at: http://www.christies.com/calendar/