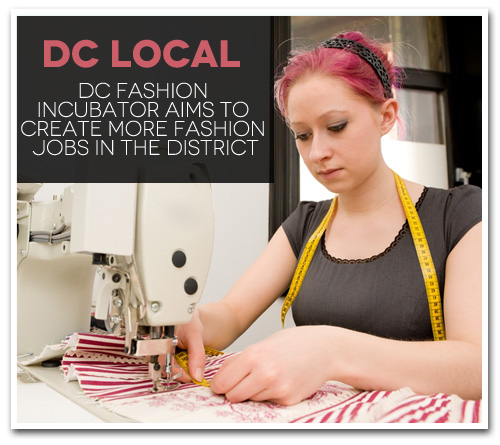 Today is the official start of the DC Fashion Incubator's (DCFI)  phase one. The four budding designers who currently live and work in the District had their first day of orientation at the Convention Center in Shaw and received their keys to the studio where they'll be working for the next 12 months.
These four designers will be mentored by 12 Fashion Ambassadors including Lynda Erkiletian, president of THE Artist Agency, and of course the president of DCIF, Christine Brooks-Cropper, who kick-started the project back in 2007 when she formed the 501(c)(3) DC Fashion Foundation.
Brooks-Cropper was inspired to start the non-profit due to her work with DC designers who had complained about  the lack of people and press at their events.
"Coming from a public policy background, when I see that something isn't working for a community, I get in there and fix it. Fashion is economical," Brooks-Cropper told Meets Obsession.
One of the main focuses of DCFI is to "keep and create jobs in the District by widening opportunities for creative professionals to develop and exercise their talents locally," says Brooks-Cropper.
Based off of a successful model in Toronto, Canada, Brooks-Cropper hopes to commercially revitalize the fashion industry here in DC.
The Incubator will hopefully become a cornerstone of small business development and entrepreneurship within the fashion industry. Each phase of the program, with new mentees for each phase, will last a year and focus on educational programs, workforce training, and mentoring opportunities, as well as networking for aspiring fashion professionals.
"There is a thriving creative community here," says Brooks-Cropper. "We hope to spotlight those that are already accomplished and mentor whoever will be the up-and-coming new fashion business and design stars in our community."
DCFI could easily pave the way to "additional economic growth opportunities for the city, including a retail resource guide for industry professionals interested in the DC market, access to 'Made in DC' manufacturing facilities and specific trade instruction," explains Brooks-Cropper.
In fact, Brooks-Cropper is already in contact with colleagues in multiple cities including San Francisco and Chicago, and even some over-sea professionals in Australia and South Africa, all of whom are looking to do something similar and work together.
The original four designers went through both an application and screening process by a "neutral, objective panel from both the business and art community," explains Brooks-Cropper. As will the next phase. However, come this summer, Brooks-Cropper is already planning on expanding to what will be their permanent location in Southeast Anacostia.
At this time, 24 "students" will be admitted and will also pay a "very low" monthly fee to participate in the program.
The 12 Ambassadors will act as business leaders and mentors to the Incubator program via DCFF.
According to Brooks-Cropper, each of the other 11 ambassadors, "all came to me. I had a business plan, I had a mission, and I'm about business. In our industry it can get very social focused—I work full time and I'm a mom—I don't have time to be social. I've made a point of being business focused."
The four designers are Isaiah Butler of DOYOU Clothing, Gennet Purcell of MAVEN, Azadeh Tajdivand of 3rd Eye (who recently relocated to DC from Germany), and shoe designer Tatiana Kolina of My Moody Booty/Sympatyashka LLC.
This first phase is called ""Culture Couture" and is being funded by a yearly grant gifted from the DC Commission on Arts and Humanities, explained PR person, Jessica Hoy.
"Fashion is not just about style and looking good, it creates jobs and tourism," Brooks-Cropper summed up.