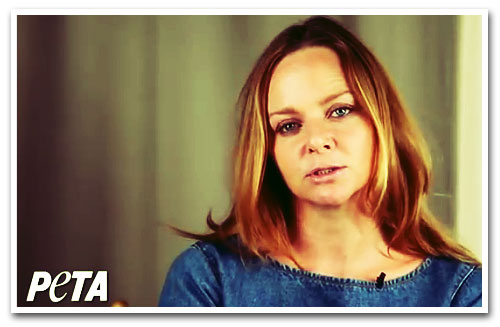 In a time when designers are shameless in their incorporation of animal skins and furs throughout their various collections, leather sometimes seems like the lesser evil in the broader, fashion spectrum.
However, for designer Stella McCartney, even leather is off limits.
Through an ad for PETA, McCartney reiterates her consistent mantra of animal rights.
"As a designer, I like to work with fabrics that don't bleed; that's why I avoid all animal skins," says McCartney in the video. "Please join me in exploring the huge variety of fashionable shoes, belts, purses, and wallets that aren't the product of a cow's violent death." McCartney states in the video.
The video, which is extremely graphic, was supposed to broadcast inside taxis during New York Fashion Week, however, the company that handles the advertising refused.
This collaboration with PETA is a part of McCartney's longtime activism since the conception of her line.
Perhaps her vigilance will show her peers that the slaughter of animals is not necessary to produce something beautiful.
Tags:
PETA
,
Stella McCartney