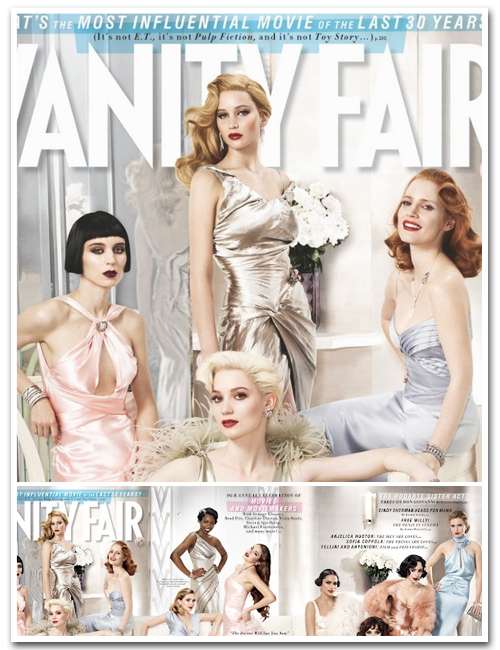 In their 2012 Hollywood issue, Vanity Fair is showcasing some of Hollywood's most talented, up-and-coming young actresses.
Eleven actresses, like Rooney Mara, Jessica Chastain, Mia Wasikowska, Elizabeth Olsen, Shailene Woodley, Felicity Jones, Lily Collins, along with many more, grace the three page fold-out cover shot by Mario Testino.
These girls have all had their fair share of publicity in the past months due to upcoming projects, like Jennifer Lawrence's Hunger Games, Rooney Mara's box office hit The Girl With the Dragon Tattoo and Elizabeth Olsen's Martha Marcy May Marlene.
This impressive spread, a throw back to the jazz age, is filled with satin in shimmering shades of pastel and screams old Hollywood done right. These ladies channel the twenties so well that Jean Harlow would be envious.
The issue hits newsstands in March, but in the meantime, VF offers a behind the scenes video which includes interviews with Jennifer Lawrence, Rooney Mara, Mia Wasikowska and Jessica Chastain.
Check it out below:
Tags:
Elizabeth Olsen
,
Felicity Jones
,
Jessica Chastain
,
Lily Collins
,
Mario Testino
,
Mia Wasikowska
,
Rooney Mara
,
Shailene Woodley
,
Vanity Fair