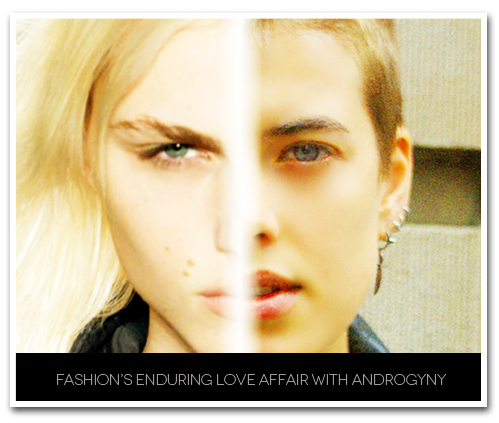 Photo left to right: male model Andrej Pejic, female model Agyness Deyn (photo: Mark Fisher).
Recently, the fashion industry has delved into the mystery of androgyny.
The fashion shoots of this fall portray dozens of models dressed in drag—recall Kate Moss dressed up as David Bowie's Ziggy Stardust on the cover of the Vogue Paris December issue—and the spring runway shows had men wearing women's clothes, women wearing men's clothes and some clothes that seemed to be entirely genderless.
But is this a new fashion epiphany?
| | |
| --- | --- |
| | |
| Transgender model Lea T poses on Givenchy ad | |
| | |
| | |
|  Kate Moss covers Vogue magazine as David Bowie | |
| | |
|  Male model Andrej Pejic on the cover of Schon! | |
| | |
|  Lara Stone in Calvin Klein Ad | |
| | |
| Model Grace Jones embraced an androgynous look in the 70s and 80s | |
| | |
In the days of "modern" fashion, Hollywood starlet Katherine Hepburn was one of the first women to publicly play with gender roles, and according to The British Mancunion, James Dean was a "pioneer to the metrosexual fad with his elaborate hairstyles, hip dressing and quirky stance."
The 60s showcased the elfish Twiggy, and a glam David Bowie/Ziggy Stardust. Men grew their hair long, and donned bell-bottoms from the era of hippies to disco, and the punk-inspired fashion of the 80s blurred gender-lines with lots of black, studs, spikes, tight pants and makeup, regardless of gender.
"Androgyny is a trend that is reinvented in each decade," says DC Fashionista, MB to Meets Obsession. "The 80s leveled the gender playing field with the power suit. The 90s grunge scene had no boy or girl. The 2000s brought the skinny jean which feminized straight men on every coast."
Though fashionable androgyny is nothing new, this time around it's not just the girls' tuxedo jackets that are blurring genders, it's the models, such as the Serbian native, Andrej Pejic.
Last January, Pejic walked in both the women's and menswear runways shows for French designer, Jean Paul Gaultier.
Pejic is ranked 11 out of the 50 Top Men Models on models.com, and he continues to book editorials in Vogue Paris and L'Officiel. In fact, Pejic was the muse for Gaultier's collection, James Blonde, presumably due to the long blonde hair often sported by the model.
Pejic is not the only gender-blurring model found in fashion magazines either.  Ethan James and Thomas Penfound both dabble in androgyny and can be found ranking alongside Pejic in the Top 50.
As for the other side of the spectrum, models Agyness Deyn, Freja Beja Erichsen, and Eliza Cummings all have slightly boyish looks, and all three of them are among the top 50 female models today.
"We're seeing models and it-girls and boys taking on the [androgyny] trend because we're in an era of re-envisioning gender," says MB. "Not only is there finally more public discussion of what it means to be queer, but there are public debates about what it means to be a man or a woman, even absent gender identity crises."
The gender revolution of today's fashion industry has even allowed for the emergence of some big name transgender models, such as Givenchy designer, Riccardo Tisci's muse Lea T who was featured on the cover of January 2011's Love Magazine. The cover, which has T locking lips with super model, Kate Moss, however caused some controversy, especially on the FHM.
Last May, a staff writer released a comment—after Pejic was "accidentally" ranked 98 on their 100 Sexiest Women in the World—that was not only insulting to Pejic, but also transphobic towards T.
"Though his sexual identity is ambiguous, designers are hailing him as the next big thing. We think 'thing' is quite accurate…More troubling is the fact that Andrej is not the only one when it comes to supermodels that are not all what they seem. The current face of Givenchy and 'lady' locking lips with Kate Moss on the cover of Love magazine is transgender model Lea T, who began life as Leandro. One fashion trend we won't be following," (from Grrrl Beat).
Pejic's write-up brought on a slew of transphobic remarks and was quickly removed from the FHM site, which now reads "Regrettably the copy accompanying Andrej's online entry wasn't subbed prior to going live. Once we realised, we removed it immediately and apologized for any offence caused. FHM has spoken to the individual concerned and taken steps to ensure this can never happen again."
Androgyny scares people.
If someone's gender is not easily distinguishable from the first take, we're taught to make a judgment based off the person's clothing.
Isn't this why we dress girl babies in pink and boys blue, respectively?
However, fashion—like any art form—takes comfort in pushing the limits of the general public's comfort zone.
Models like Pejic, T, and Erichsen are not only changing the face of fashion, but also helping change the way America and the world at large view gender expression.
One fashionable step at a time.