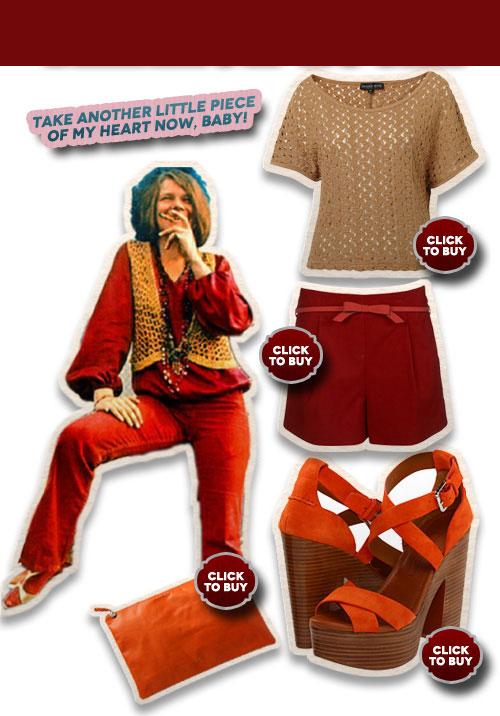 Click on the images above to learn more about the products.
Queen of rock'n'roll, poet, psychedelic and soulful, Janis Joplin has been called many things, but simply put, she was a free spirit.
The freest—in every sense of the word – through her art, style, and beatnik lifestyle, Joplin was the ultimate bohemian soul.
She initially shot to fame through her work with Big Brother and the Holding Company, but hits like "Down on Me," "Kozmic Blue," and "Me and Bobby McGee" solidified the folk songtress' place as one of the most influential artists of this century.
Rolling Stone has named her 46 in its list of "100 Greatest Artists" of all time and 28 on their "100 Great Singers" list. Though her accolades are many, Joplin left her imprint on not only the music world, but fashion as well.
Joplin often graced layers in every print and pattern you could imagine, and she dripped with beaded and woven bracelets and necklaces. Her hair was long unkempt,  and often, she wore  feathers and fur. The list could go on and on, but the essence of Joplin's fashion was her freedom.
She wore her iconoclastic approach to life, quite literally, on her sleeve. Joplin was and still remains to encapsulate what good fashion and music should be – sincere, honest and liberated.
To rock an updated version of Joplin's look, try wearing this red flat front short and crochet tee by Topshop, platforms by Ralph Lauren, and accessorize your outfit with a Fireworks clutch by Anthropologie. If you're trying this look in the winter, be sure to pair with colored tights and a faux fur jacket.
Now go out and "let the good times roll."
---

Saron is a writer and student born in Ethiopia and raised in Washington, DC. She is incapable of keeping a phone for longer than a few months, exclusively wears Miss. Dior Cherie, and her guilty pleasures include any novel written by V.C. Andrews (don't judge), Essie's "Little Brown Dress", and Stoli. She is currently obsessed with the poetry of Edmund Wilson and The Arctic Monkey's latest album "AM".
All author posts