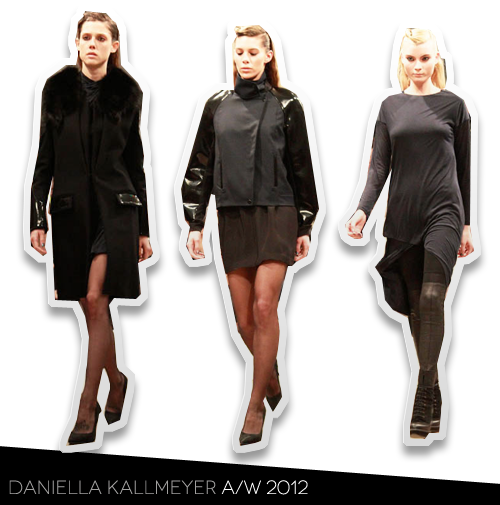 As the little girls of the 90s have grown older and more nostalgic about the days of tie dye and their older sister's grunge, they've (okay, we've) started to gravitate towards nouveau nineties lines.
It's sometimes hard to translate without moving in to that awkward not-quite-old-enough-for-retro territory. Daniella Kallmeyer gets it, quite thoroughly, and delivered a Fall/Winter collection that was at once a nod to the old ravers and an invitation to the new.
"My New Year's Resolution was to go out more. I'm a workaholic, so I never do," Daniella said, smiling, at the close of her presentation. "I was very inspired by raver culture and 90s TV shows."
There's definite evidence of that here.
In the lining of her flawlessly tailored grey suit pieces (her resume includes Alexander McQueen, Jen Kao and Proenza Schouler, and it shows) are cosmic flares in purple and orange. The black patent leather was offset by furry black straps, and swathes of purple and tangerine broke up the largely monochromatic palette.
The standouts, a skirt and suit in a green and white iridescent material and a liquid matte sequin maxi skirt, are almost certainly going to be snapped up for editorial or two. The movement of the pieces was important to her, which is why she didn't repeat last year's digitally projected presentation style and opted for a live, way up close presentation. The clothes held up to close scrutiny; not a stitch seemed out of place or hurried.
If she has any extra bit of hubris about being a young designer producing consistently extraordinary collections, Daniella isn't showing it. "I'm just really inspired by the people around me," she said, glancing to the right at an older couple waving at her and grinning, her parents. In her stilettos and furred headband, she politely excused herself from the cameras to talk to them.
[nggallery id=158]