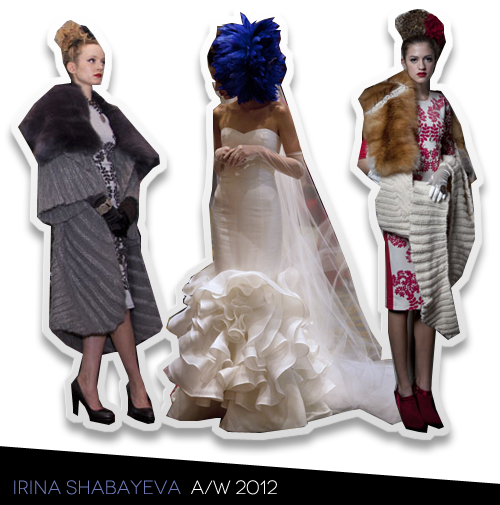 It was a bit confusing walking into Irina Shabayeva's A/W 2012 presentation at the Eventi Hotel, and even more so if you'd walked up 29th Street to get there and seen the live projection of the collection on a cinema screen hung on an adjacent building.
| | |
| --- | --- |
| [imagebrowser id=166] | |
| Courtesy Photo | |
It felt a bit like walking into a wedding reception an hour after it had ended, except that there was a score of brides, and instead of one overzealous aunt with a big camera, there were over a dozen.
There were no intricate paper snowflake cutouts or heavy metallics from the Project Runway winner this season, just lots of gorgeous fur and lace appliqué, and, of course, a few sweaters worn over the gowns.
Most of the pieces read like a bridal collection, and though a few were a touch overworked (a 90s Barbie number with a cloud of ruffles at the bottom would make for a lovely wedding gown, but when topped off with a planetary orb of blue feathers, it was a bit much).
The simpler designs, which were the basic silhouettes, were stunning. The standout look was a white dress with a flash of red lace across the front underneath a russet fox fur stole.