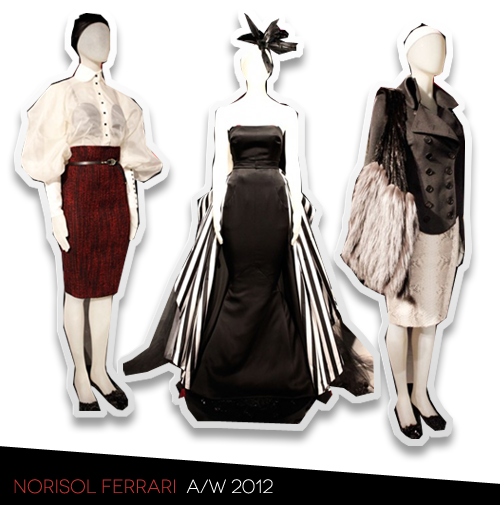 | | |
| --- | --- |
| [imagebrowser id=164] | |
|  Courtesy Photo | |
"I thought she did corsets? This is just wonderful," marveled a guest as she pointed to a heavy, flowing brown overcoat with a lush fur collar at Norisol Ferrari's Lincoln Center debut last Tuesday.
The presentation, staged in The Box, featured only two live models: Mad Max looking twins with blue inclusions in their hair, kicking boots and lots of leather. The rest of the looks were on mannequins, but managed to breathe all the same. There were her staple leathers in a spiked, feathered helmet, harnesses under sheer white dress shirts, and yes, a few corsets.
The best, though, was her Dawn jacket: a fluid, soft looking alligator hooded jacket lined with equally lush sable that looked as comfortable as a cotton hoodie, if a bit heavier.
The collection's range was wide—alongside that badass leather coat and helmet were incredibly sleek satin and stretch evening gowns, a velvet blazer and that arresting brown wool coat with flowing sleeves that made Norisol's guests gasp.
And obvious coolness aside (she described the collection in her program as being inspired by Mad Max and the clamor of Jean Harlow), the care and craft that went into making each piece was evident—she specializes in bespoke leather tailoring, after all.
The only thing missing was a bit of movement; it would have been incredible to see the pieces move and the leathers articulate. Nevertheless, with this collection, Ferrari has gone from designer to watch to one not to miss.