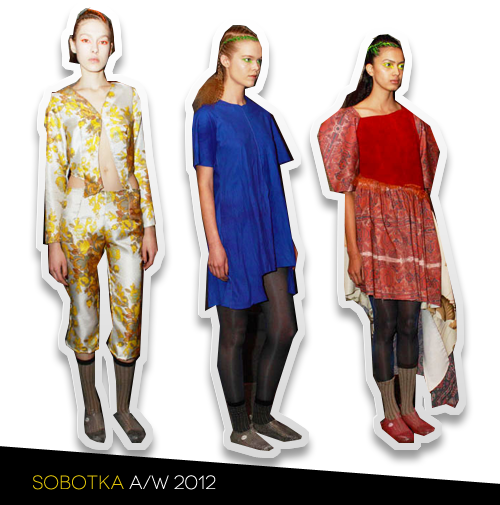 Though Burning Man attendees may disagree, Sobotka has a bit of growing up to do if it is to compete with the ever-swelling ranks of exceptional young lines. The showing, at the Tribeca Grand Hotel, was small and a bit inconsistent. The reason for that is simple: curtains.
Apparently the designer, Megan Marie Dodge (a more compelling presence than many of her pieces), used curtains left by the elderly ex-tenants of her apartment to create the standout look of the collection, a precise and original pajama-y suit. It and the other beauty, a crop top (a Sobotka signature) and circle skirt made from some sort of blue and bronze rug, were side by side next to a strange, lumpy tapestry vest and patchy paisley dresses. Another seemed worryingly like it had been carved from a bolt of Missoni fabric.
The footwear was most confusing, though. Jelly shoes, kind of like closed Crocs but worse, were used when bare or stocking feet would have worked nicely.
The makeup was interesting if incongruous: neon bright eyeliner matched streaks in the model's half-cornrowed, half-frizzed hair.
[nggallery id=157]