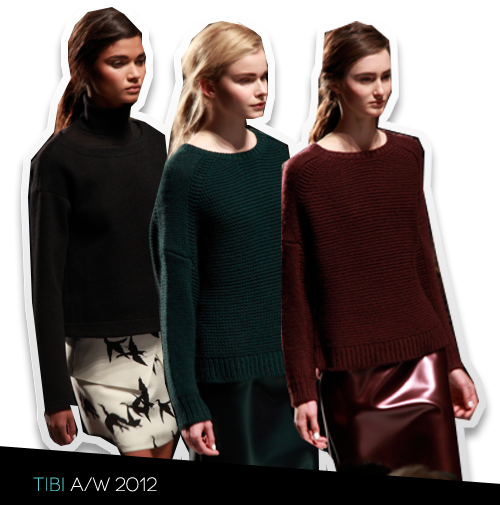 Anticipation for the Tibi autumn/winter 2012 collection was palpable at Lincoln Center this week, and model and super-blogger Elin Kling, and modern style icon Olivia Palermo sat front row taking pictures on their iPhones like the rest of the crowd.
But, perhaps it was too much vigor for the minimalistic collection.
The Tibi autumn/winter 2012 collection presented the unexpected.
Surprisingly masculine, the collection consisted mostly of boxy blazers, stiff oversized tops, and formless metallic leather skirts and jackets.
It is a strong polarity from the Tibi autumn/winter 2012 of yesteryear's floral prints and deep-V formfitting dresses.
Designer Amy Smilovic confined feminine whimsy to a few swallow-printed bottoms and tops.  And thank goodness for those birds, or this collection may have erred too far on the understatement and would have been regrettably forgettable.
The knee length cuts on many of the skirts were unflattering, and the blazers were too awkwardly large and conservatively basic.
If minimalism is the goal, there must at least be a presentation of texture or interesting shapes, and in this collection, only the metallics were of any interest amidst the bulky silhouettes.
Menswear for women is an often traversed pathway with many designers succeeding in the translation and raising the bar one collection at a time.
This Tibi collection unfortunately failed to borrow from the boys like its contemporaries.
[nggallery id=156]
---

Sinta Jimenez is currently obsessed with Opening Ceremony collaborations, Band of Outsiders, warabi mochi from Temari Cafe, meteor showers, and finding a Jeff Buckley soul with a Jason Segel sense of humor.
All author posts