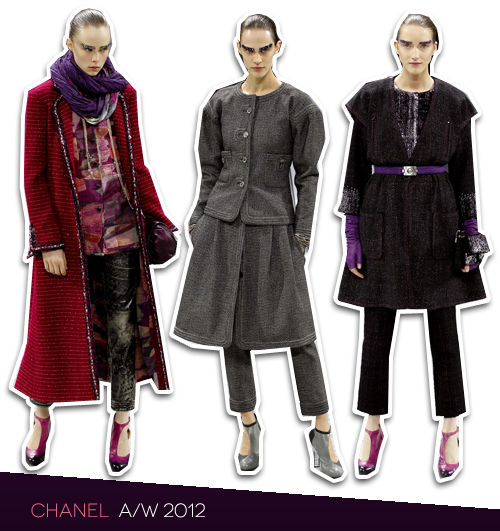 Ah, Chanel in Paris — the greatest (fashion) show on Earth!
Chanel presented a crystal-infused autumn/winter 2012 collection on a theatrical and complimentary runway this week.
Creative Director Karl Lagerfeld is said to have taken inspiration from nature, cubism, and mineralogy for this collection.
Models, which included Stella Tennant and Miranda Kerr, wove their way through the dramatically staged crystal maze, which composed the runway in dark wintry hues and strong silhouettes.
Lagerfeld reworked the traditional Chanel boucle jacket in sportier, slouchier cuts. Long boucle coats had loose arms, rounded shoulders and straight longer waists. The three-ply yarn dominated the designs and there was no shortage of it amidst all the coats, pants and skirts, however the collection was distinctively less lady-like than the Chanel we've known in the past.
The influence of cubist blocking could be seen in the architecture of a new Lagerfeld trifecta: pants, skirt and strong-shouldered coat.  This boxier silhouette was lightened by the effervescence of metallic and bejeweled embellishments along the hems, cuffs and seams.
Not just in the clothes or the runway, crystal was thematically employed in the makeup as models wore strips of crystal across their eyebrows made by French embroidery house, Lesage.  The looks were nothing short of dramatic, especially paired with the darkest of the Chanel tweeds, which were woven with a crystalline sparkle.
To end a thematically perfect show, three-year old Hudson Kroenig walked the runway holding hands with model Heidi Mount.
This isn't the little tyke's first Chanel show, but in fact his second. His father is Chanel model Brad Kroenig.
---

Sinta Jimenez is currently obsessed with Opening Ceremony collaborations, Band of Outsiders, warabi mochi from Temari Cafe, meteor showers, and finding a Jeff Buckley soul with a Jason Segel sense of humor.
All author posts