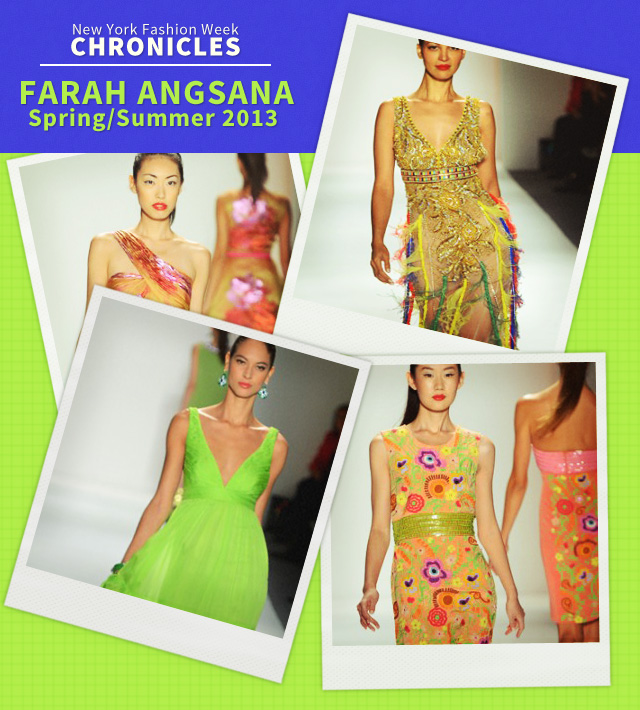 Every Fashion Week it's inevitable that you come across several newer designers at off-site events and wonder why they're not showing at Lincoln Center already.
And it's an entirely different matter to go to a runway show at the Lincoln Center Stage and wonder why the designer didn't show at their showroom or an events space and let someone a bit more forward moving have the spot.
Farah Angsana, with her ever-glittery cocktail dresses and ballgowns, has had hits and misses in the past, but this season's collections was something else altogether: it was, some of which looked as expensive as they are and far more which looked like something from the Macy's Juniors department.
The show got off to a good start, with a Bond girl sort of feeling. The models walked in doubly slit black skirts, beaded bodices and sleek high-ponies to thrumming spy-movie music. But then everything shifted in feel and look to short dresses printed with big metallic flowers, messy embellishments, kiddie floral embroidery (let's amend that, 1974 kiddie floral embroidery), and a few uninspired tropical-colored dresses that blended in to each other. There was a bout of recovery at the end, with several floating kaftans with Egyptian style bead and embroidery work, but it wasn't enough to save the day.
Upon leaving, one second-row guest murmured to another, "Well, that was a bust, huh?" Couldn't have said it better ourselves.
[divider]