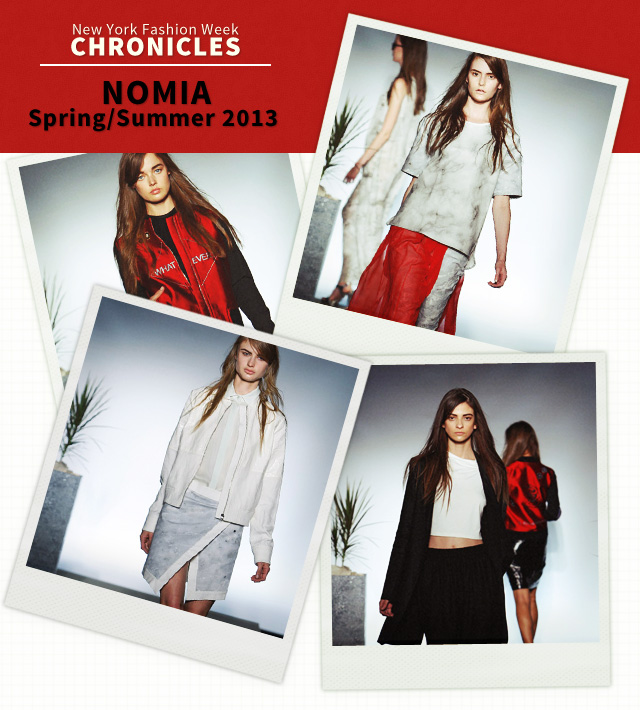 'Oh no, again, with the white,' were the words that came to mind as the first few looks of Nomia's S/S 2013 collection walked. An unfair assessment given that had Yara Flinn presented her line earlier in the week, the sentiment wouldn't have obstructed anyone's view of it at all, but a fair one considering that it was almost a chore to come up with three designers who hadn't done the white and grey and white and black and crimson and white and white thing this season.
That said, Nomia's spring is characteristically architectural and, as there's no better way to say it, really cool.
It was a bit less complicated in the construction than Flinn's last few collections, and made use of embroidery proclaiming "WHATEVER" on some of the tops and a fantastic varsity jacket.
As you looked closer at the looks, though, there was texture: some of the panels and boxy suits, you could make out grey marbleizing, making them look part carved and part sewn. Some of the pants were 'laminated' with a high-shine coating. It's also pretty safe to say that the 3/4 to 1/2 sheer skirt trains in bright carmine will find their way on to the backs of art scene girlies everywhere from NY to LA. The final dress was also subtly breathtaking, more for the movement of it than anything else.
The only thing lacking by the end of the show was the ambiance–after being penned on to the balcony of The Standard Hotel, we were shuffled through to a large, dark room with a small runway, and we stood around it in a semi well-dressed mob. Here's hopin' Yara gets a seated show soon.[divider]