Courtesy Photos
Heidi Gardner's jewelry presentation was unique and full of downright debauchery, embracing all aspects of  sex, drugs and rock 'n' roll.
Her SS2013 jewelry was a collection of edgy, heavy skulls, shields and other rocking, warrior inspired designs, made into rings, earrings, cuffs and necklaces in brass, silver and gold.
In an interview with Meets Obsession, Gardner talks about her latest show's concept, explaining "I like to do something different where it's more of an experience, so that way people can see where the inspiration for the line comes from and they can see where my brain goes when I'm creating."
She continues, "This season, I wanted to do something a little more rock 'n' roll because I love rock 'n' roll….I wanted to include my love of weaponry and put it into a rock 'n' roll context. My big inspirations for this line are ancient warriors like Achilles…I've been obsessed with Achilles, ancient Trojan warfare and Ancient Rome….they're the original rock stars."
The theatrical background that was set at the Flatiron Hotel played a heavy hand in Gardner's presentation and left a sentiment of awe in the room.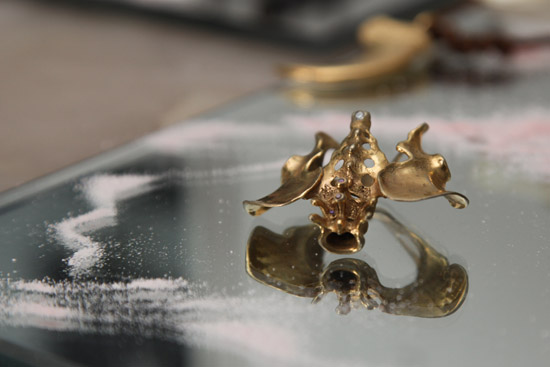 Sticking with the sex, drugs and rock 'n' roll theme, Gardner's pieces were presented on top of powdered-decorated mirrors around a candle lit Flatiron hotel room, among various rock 'n' roll scenes, as various hair rock bands blasted in the background.
A semi-clad, tattooed model danced on a podium in the middle of the room, as another model in latex pretended to whip a tied up male model in the bathroom.
To top it off, a long-haired rocker posed with two bed-headed girls across a velvet covered bed.
These scenes reflect Heidi's inspirations perfectly. It is understandable then, that she was heavily involved in the presentation's creative process.
In explaining her role in the creative process of the presentation, Gardner says she engaged in "everything from the planning to the execution." She further elaborates, "I was just lighting the candles and putting the candles around the models, when people were coming upstairs." Gardner chooses her models, too, as well as the makeup, hair and clothing used for the presentation.
Gardner's rock 'n' roll influences and  her sense of humor is clearly conveyed throughout the show and she describes how it was used, "I'm very silly…you'll never see me without a smile on my face and if you do, there's something really wrong. I like to have fun, with everything that I do, and especially with my jewelry…rock 'n' roll is all about having fun, and going to extremes…just letting go."
So, what's Gardner's latest obsession? And where is her collection headed for the future?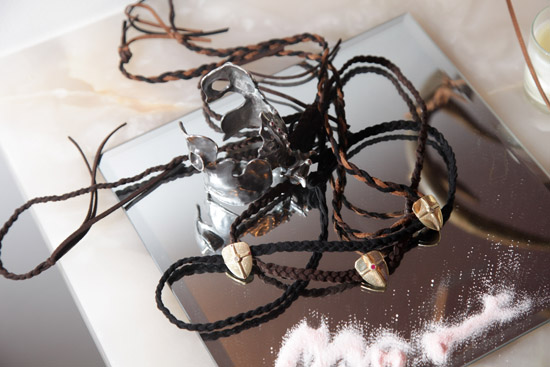 According to Gardner, "I had some big interviews that I did over the summer so I should be in a couple of great publications coming this fall, and then I'm trying to work with a designer to create a line for his store that's opening in Soho in October…I'm working on another line…I might release it for February fashion week but I'm not sure yet. I'm having so much fun with the armory and shields that I want to keep playing with that a little bit. Every line I will be making will be very extreme."
Gardner also mentions that she may branch out from jewelry: "After my little delve into (making) leather outfits for this show, I think I might try and learn how to put garments together. If I were to do any sort of clothing line, it would be solely leather."
We look forward to hearing more from this rising star and nabbing a Heidi Gardner leather garment soon!
---

Jenny McFarlane is currently obsessed with ASOS timed sale shopping, obsessively listening to the "Drive" soundtrack, and everything faux fur.
All author posts