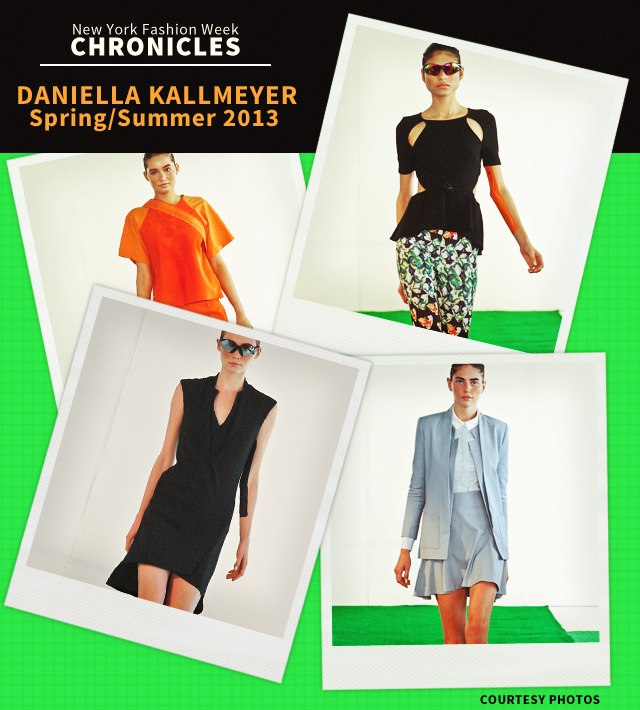 Daniella Kallmeyer has moved through several phases in the five collections she's shown to date.
From seeing her darkly ladylike lines from the Fall and Spring of 2011 to the lively, inventive pieces she showed this past February, you wouldn't peg her next direction as sportif. But that's exactly where she went with her S/S 2013 line, and for better or worse she was bold about it.
The looks were stridently athletic: trousers and windbreakers in nylons and perforated leather. It was also a runway show for the first time rather than a more static and up-close presentation. The 12th floor of Studio 450 in Chelsea was lined with an Astroturf runway that took models in a loop to the tune of No Doubt's new "Settle Down," (also on a loop, just less aesthetically appealing).
The collection was less print-focused than her past few, as she seems to have been concentrating more on doing something different. She stuck to her favorite color scheme of black, white, blue and orange for the most part, even bringing the colors as accents on the model's eyebrows.
The best of the line was a deconstructed poplin top that demonstrated what she's been noted for: perfect tailoring and thoughtful construction. Another few looks, a powder blue shorts suit with inverted lapels and an orange jacket in the same style, were reminders of it too, though I wish there would have been more.
And though it did make me a bit nostalgic for the incredible cuts and iridescence of last season, Kallmeyer's Spring 2013 was different in a good way. It looked like growth and confidence in new directions, which is all Kallmeyer needs to ensure that her relevance and her fan base both get stronger.
Courtesy Photos [divider]