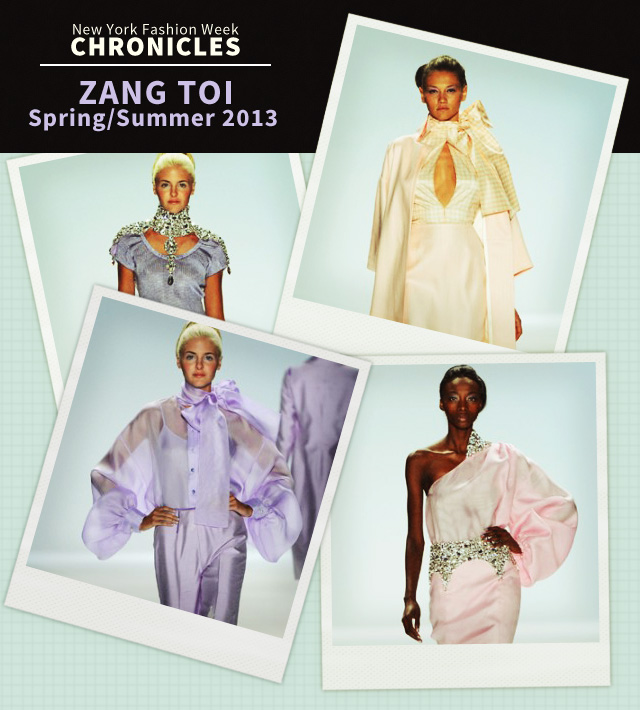 In the scope of things, I haven't been attending runway shows for a very long time, so for what it's worth, tonight was the first time I have ever heard applause and gasps audible from the other side of the room during a show. There has always seemed to be a bit of an unspoken rule to wait until last looks to clap, but at the Zang Toi show, no one was waiting. It seemed as if every fifth look garnered a round of hushed applause. It was with good reason: the gowns were, in a word I heard dozens of times, stunning. It was mostly the clothes responsible for the awe, but the theatricality of everything definitely helped.
The collection was inspired by a fairytale like story of a couple living on the French Riviera, and in a bit of an overture a male and female model made a sultry pass on the runway (to the first round of cheers). Afterwards, the way the collection developed looked very much like a woman's life when she falls in love. There was a set of business-like suits that grew longer and closer to gowns until they gave way to light, flirty gingham and knit dresses in lavender, yellow and pink.
With a brief pauses in between moods, the lightness of the daytime-date dresses became a cinematic sort of glamour in dramatic evening gowns in the same pastels as well as some in black and cream combinations.
There was a determinedly princessy atmosphere about looks. The more simple ones were adorned with oversized bows and flounces, and one was so frothy and so much like a Disney ballgown that the model stopped and turned mid-runway, fluffing her skirts and displaying the draped back of the gown, which was full of flowers.
The most ornate and incredible were topped with glittering capelets and chest pieces of rhinestones that looked like armored wings.
Well worth the gasps, uncontrollable bursts of applause, and the standing ovation. [divider]