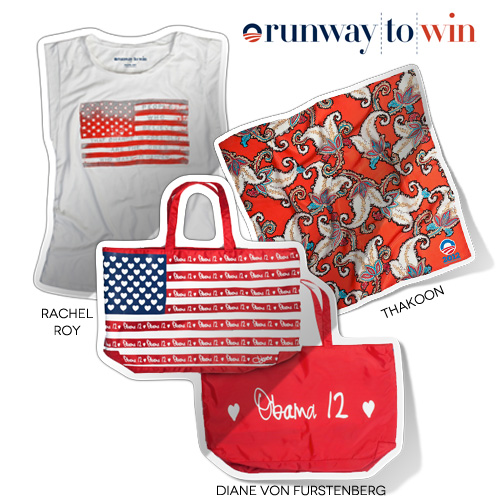 Earlier this week, we reported on Anna Wintour's recruitment of 22 fashion designers for the Runway to Win fashion fundraiser for Barack Obama's Victory Fund.
Designers that were recruited to design Obama merchandise include Alexander Wang, Diane Von Furstenburg, Jason Wu, Marc Jacobs,  Prabal Gurung, Thakoon,  Derek Lam and 14 others.
And while we're pretty Swiss on the race for 2012 at the moment, we must say, we're loving some of the Obama 2012 designs that have already launched on the website.
Particularly we're gaga over Thakoon's scarf, the Rachel Roy and Jason Wu t-shirts and the bags from Diane Von Furstenberg and Derek Lam.
Our votes are in, and these are way cooler than Santorum's for-sale sweater vests.
To see the entire collection, click here.