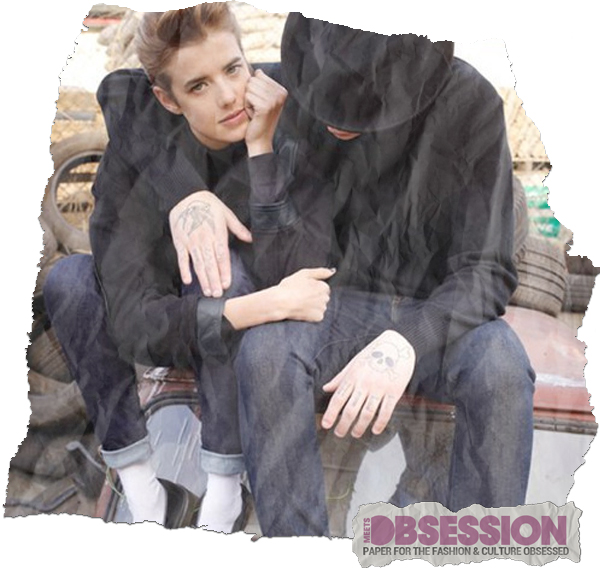 Photo: Agyness Deyn stars in Dr. Martens ad campaign.
[divider]

The recently outed 29-year-old British Model Agyness Deyn—who, up until a week ago we believed to be 23 years old—may be on the cusp of her 30s, but it doesn't mean that she has lost that rebellious edge that we have all come to admire about her. In our opinion, Deyn just upped her coolness factor with the recent announcement of her limited edition Dr. Martens line, which will debut this fall.
The androgynous beauty appeared in the fall 2011 and spring 2012 Dr. Martens ad campaigns—her glamorous edgy punk look made her perfect for the brand, so it was only natural to take the relationship to a collaboration level.
And while it may seem that Deyn is jumping on the model-collaborating-with-brand bandwagon, according to WWD, she has been a long time fan of Doc Martens—she bought her first pair when she  was 13-years-old and is usually spotted around London wearing the grungy kicks.
So this collaboration seems genuine, as good old Agy has been donning those trademark yellow stitched soles way before her modeling career, which she started at 18.
Her past Dr. Marten ads featured the model in skinny-cuffed jeans, high socks and of course classic Dr. Martens pieces, such as the 1460 lace-up boot and the Barret tasseled loafer. Over the years the British shoe company has kept to its classic Punk roots, all while adding new refined shoes, heels and re-invented looks—creating a sharp, yet edgy image for the shoe company—traits that Deyn herself exhibits.
With all of that in mind, this line is sure to be more authentic and different from the other model brand collaborations. If you ask us, we think Agyness has made up for her recent confession—lying about her age for years.
Details of the collection's release date are TBA for now, as the company will release more information at a later date.