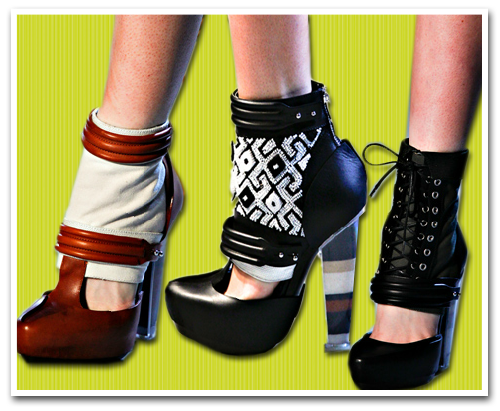 Considering Rodarte has collaborated in the past with shoe designers Christian Louboutin and Nicholas Kirkwood, it should be no surprise that the brand unveiled their first shoe collection during their New York Fashion Week autumn/winter 2012 presentation earlier this week.
Taking to the cutout trend, the Mulleavy sisters revealed a solid collection of leather t-strap shoes with cutouts, heels encased in plexiglass and bondage-esque lace-up boots. Tribal prints inspired by the Australian Outback decorated fabric ankle cuffs on several of the shoes, and unlike previous apparel collections, Rodarte's aesthetic departs from pretty and ethereal to a more hard-edged, punk feel.
The six-style Rodarte shoe collection will be available in stores between July and September and each pair will retail from $995 to $1,500.