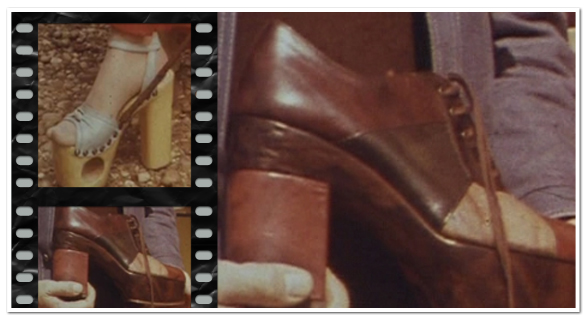 There was a lot happening in all aspects of pop culture during the year 1977—there was The Sex Pistols getting dropped from EMI then signed by Virgin (then releasing the iconic "Never Mind the Bollocks, Here's the Sex Pistols" album), the release of iconic movies "Rocky" and "Annie Hall," and of course the dominance of the platform shoes.
British Pathé, a media company that has been collecting and archiving some of pop culture's greatest moments, recently put out a sample of the 1977 mini documentary simply titled "Platform Shoes."
It's impossible to not mention the height of the 70s without mentioning the platform's role. The same kicks that bolstered John Travolta into Disco fame and showed the world that the Bee Gees can play pretty good music, took the fashion world by storm.
The Pathé video captures the extreme divide that people felt toward platforms—either really loving it, or looking on in disdain at the unfathomable fad. And of course the age-old question in fashion—do these high heels have health risks?
The interviews features the everyday men, women and an expert, who at one point gets really scientific, explaining the health risks such as, unnatural strides, squeezing of foot blood vessels, etc. And like many lovers of fashion—some of the wearers would rather risk it and strut it. The then lovers of the fad defend the shoes by describing it as fun.
"Platform Shoes" is nostalgic for those who lived it and interesting for the new generations to take notice because many of today's most coveted shoes are inspired by the platforms—the chunky heel, mary janes, oxfords, and of course, Jeffrey Campbell shoes.
Fad it may have been, but let's admit it, the fashion world today just simply wouldn't be the same with out their short but impactful reign.