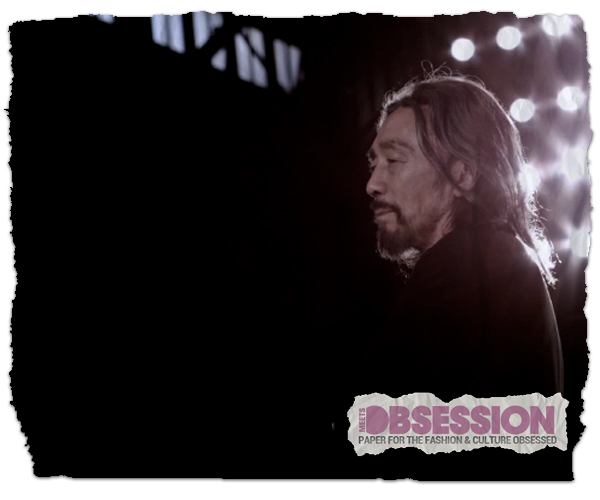 Courtesy Photo, "Yohji Yamamoto: This is My Dream"
Minimalist designer Yohji Yamamoto is pulling a Tom Ford by trying his hands out at directing. Not much has been revealed on the project,  which the 69-year-old designer says is "very secret," however, we do know that he has already commissioned a writer.
It's pretty natural to wonder if the fashion giant will design the costumes, but based on what he told WWD, he'll just oversee the creative aspects of the film.
Though the designer has had his designs featured in past films, he has no intention of costume designing for his own film.
Recognizing the difference between a fashion designer and a costume designer, Yamamoto told WWD, "I don't want to kill the characters of the actors and actresses with my ego," further explaining "[Costume designers] have to know which fashions and which trends were running at which time, so their knowledge of past clothing is sometimes better than ours."
That is a pretty understandable statement considering that when Ralph Lauren created the costumes for the mediocre film adaptation of F. Scott Fitzgerald's classic novel, "The Great Gatsby," the classy 20s inspired outfits worn my Mia Farrow and Robert Redford overshadowed the movie.
If he does decide to take on the role as a costume designer, we're pretty sure that, as a master of minimalism, he will be able to restrain his point of view and will be successful at creating designs that embody his character's essence, instead of overshadowing or distracting from them, as he did in Takeshi Kitano's highly acclaimed film "Dolls" and Wim Wenders's "Until the End of the World."
While the film will take an estimated two years to complete, you can still get your Yamamoto fix by  watching  the fashion documentary "This Is My Dream," which captures his motivations, goals, creative process and personality.
Perhaps it might also give you insight on his "very secret" film.
Tags:
Ralph Lauren
,
Takeshi Kitano's
,
Wim Wenders
,
WWD
,
Yohji Yamamoto