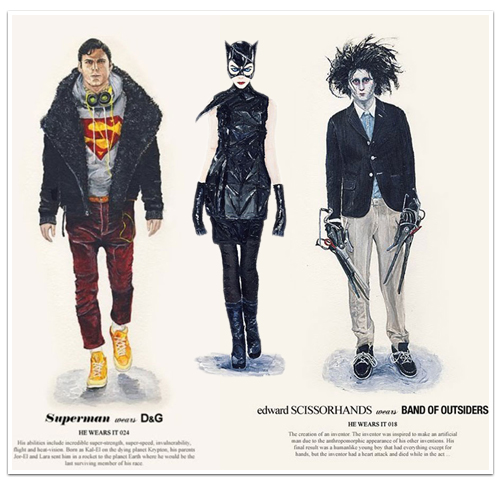 Illustrations by Thaeger
Not only is fashion just for everyday people that lack superhuman powers, but according to one illustrator, fashion is for superheroes and fictional characters, too.
Illustrator and blogger Thaeger answers the question, "What would a superhero dress like in the real world?"  in his series "Fashion Heroes,"  a collection of fashionable sketches of superhero fan favorites, such as Superman, The Joker, Catwoman and Edward Scissorhands.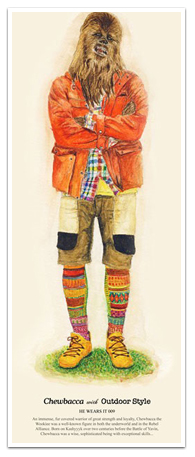 Superman ditches the cape for a laid back D&G look complete with a Superman sweatshirt and yellow sneakers (perhaps with built in rockets?)
The Joker keeps up his sinister smile in Junya Watanabe with cuffed trousers and brown loafers.
Sure to make her enemies purr, Catwoman looks sexy and chic in an anti-catsuit Rick Owens ensemble.
Finally, the shear appeal of Edward Scissorhands does not go unnoticed, especially in a relaxed blazer from Band of Outsiders.
We'd love to see Wonder Woman, our superhero favorite, dressed in a stunning  corset from The Blonds.
Also, be sure to check out his brilliant "Star Wars" series, which features the fashion illustrations of Storm Troopers, Padma and Darth Vader.
Who is your favorite superhero and what designer would suit them best?
---

Bridget is a writer, stylist, and vintage clothing dealer based in Kennett Square, Pennsylvania. Bridget enjoys spending time with her boyfriend and guinea pig, and in her spare time sells vintage at local flea markets . Bridget is currently obsessed with Zooey Deschanel's wardrobe on New Girl, Moroccan food, and microcars.
All author posts