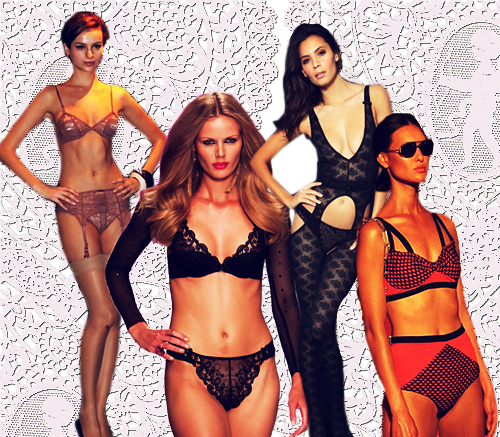 Left to right: La Perla S/S 12, Hunkemoller S/S 12, Agent Provocateur S/S 12, The Lake and Stars S/S 12
This Valentine's Day, why not surprise your loved one with a gorgeous set of lingerie as your gift to him!
The Spring/ Summer 2012 collections were full of inspirational ideas for intimates.
While delicate, romantic, lacey looks were on the La Perla and Hunkemoller runways, Agent Provocateur and The Lake and Stars have taken on an edgier, saucier tone with bright patterns and cut outs in the most erotic of places! Ooh la la!
Whatever mood you're in, there are plenty of options to make sure you'll be the center of attention in the bedroom and beyond.
For an extra serving of sexiness, combine with a pair of glam heels to add height and accentuate your booty!
Check out M.O.'s naughty and nice boudoir favorites. You'll be the most unwrap-able of gifts!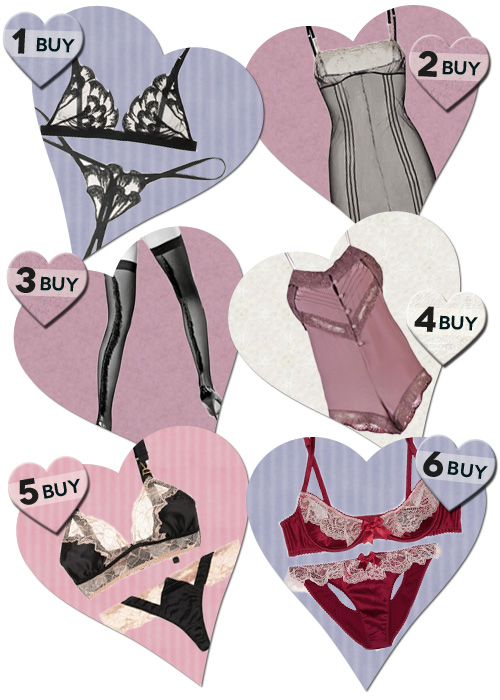 Please click on the hearts to find out more information.
1. Intenzioni: Venere Demi-Cup Bra + Intenzioni: Venere Thong
2. La Perla Black and ivory Sweet Hearts chemise
5. Stella McCartney Lingerie Selma Dancing Soft Cup Bra + Thong
6. Myla Rosalyn underwired peekaboo bra + Myla Rosalyn lace-trimmed satin briefs
---

Jenny McFarlane is currently obsessed with ASOS timed sale shopping, obsessively listening to the "Drive" soundtrack, and everything faux fur.
All author posts