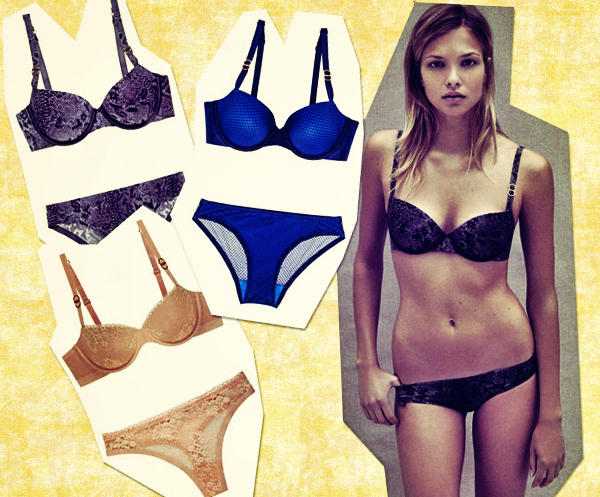 This August, Stella McCartney gives us all something to get our knickers in a bunch about — her new mid-range priced lingerie line, "Stella" will be dropping in stores and online.
McCartney released her first collection of lingerie in 2008 with bras, panties, and chemises normally priced between $100 and $300.  Beautiful pieces made of the finest eco-friendly fabrics, her lingerie became a popular secondary offering by her brand, almost as popular as her sportswear line in collaboration with Adidas.
As her namesake brand has grown with the varied retail of multiple lines, she is now wisely capitalizing on the popularity of her high fashion lingerie, but this time, at not so haute prices.
The development of this new everyday collection defines itself as practical, affordable, but also innovative and advanced.
Comparable to price point of Victoria's Secret, the similarly priced "Stella" line boasts the finest of wireless technology offering optimal support and highest comfort while still veiled in high fashion spirit that is Stella McCartney.
"Stella" is reported to offer a "nearly nude wearing experience" and the collection includes five bra models: Moulded Underwire, Balconnet, Plunge, Strapless and Supernatural, the latter being the most exclusive and cleavage enhancing fit.
McCartney states, "Well-made lingerie is key. Feeling constricted by one's underwear just isn't my thing; you need to rely on the quality. It has to fit, function and do its job first and foremost."
Thank you, Stella McCartney, for bringing your workmanship to the masses.
Find "Stella" at StellaMcCartney.com and Net-A-Porter.
---

Sinta Jimenez is currently obsessed with Opening Ceremony collaborations, Band of Outsiders, warabi mochi from Temari Cafe, meteor showers, and finding a Jeff Buckley soul with a Jason Segel sense of humor.
All author posts