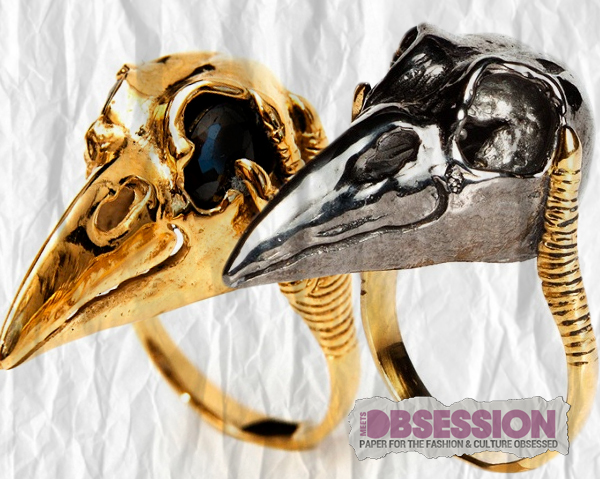 Jewel Heritage, a jewelry line started by two sisters based in the UK, has released a special collection for their one year anniversary of The Harbinger of Death ring.
A crow, which is now considered a symbol or omen of death, at one time, was known as the messenger of the gods.  Omen or not, these dark, somewhat sinister rings are captivating and would be a perfect way to edge any look up.
The Harbinger of Death collection includes an assortment of rings, all with the same design, with finishes in 18k gold and black rhodium. There are several colors of "eye stone" options to select from in black, clear, green, pink, purple, red, and yellow CZ stones.
Within the mini-collection, there is also a talon bracelet and crow necklace. All pieces can be purchased for under $100 plus shipping.
Full product details are available here.
---

Bridget is a writer, stylist, and vintage clothing dealer based in Kennett Square, Pennsylvania. Bridget enjoys spending time with her boyfriend and guinea pig, and in her spare time sells vintage at local flea markets . Bridget is currently obsessed with Zooey Deschanel's wardrobe on New Girl, Moroccan food, and microcars.
All author posts