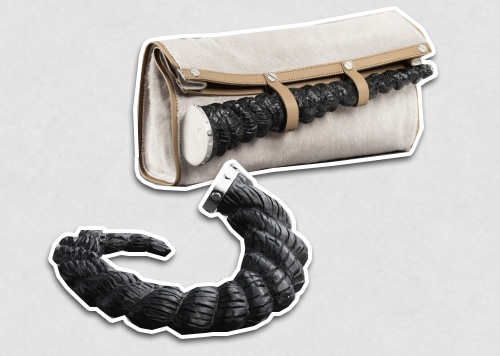 "Project Accessory" winner Brian Burkhardt has been on a winning streak lately—he won the first season of "Project Accessory," received the $100,000 jackpot, and his winning piece was sold on the Kenneth Cole website—in addition to all that, he now gets to continue his Kenneth Cole stint by expanding his pieces into a four-piece capsule collection.
The Miami-based designer was known as the artist that stuck to his guns amongst the competing designers on the show, and one could easily see someone like Lady Gaga wearing his eccentric, envelope-pushing designs.
When "Project Accessory" featured a challenge that allowed the designers to create a potential piece for Kenneth Cole's accessory line,  fans of Burkhardt were given the opportunity to purchase their own Burkhardt design when he won the challenge.
Burkhardt's winning piece was a fold-over, calf-haired clutch held together by an impeccably detailed unicorn horn carved from resin. The piece and a necklace version of the clutch was added to the Kenneth Cole website.
Now, a couple months after the show's airing, Kenneth Cole doesn't want the designer to fly the coop just yet. After designing the now iconic unicorn clutch, he has since then added two more unicorn horned inspired pieces: a twisted resin cuff and a bolero necklace.
In addition to getting the exposure most designers could only dream of, his designs are going toward a good cause. One hundred percent of the net profits will be donated to Kenneth Cole's AWEARNESS, an organization that supports  the American Foundation for AIDS Research (amfAR).
To view the entire collection, click here.