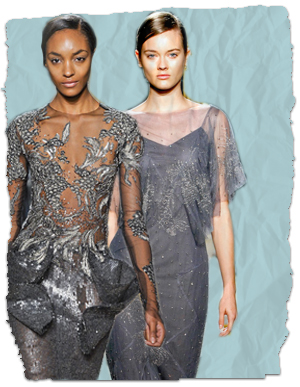 From the time they fall in love with a line, there's a moment that every die-hard fashionista waits for.
Long ago, that time used to be the once-in-a-blue-moon moment when the designer's line would go on 75% or more sale, and you could actually afford a piece. But nowadays, things have changed with designer diffusion lines.
And for those Marchesa fans, your once-in-a-blue-moon moment may be arriving soon.
WWD  is reporting that LF USA, which is part of a large manufacturing corporation called Li & Fung, is interested in creating a contemporary line for fashion brand favorite Marchesa.
Although only a rumor for the time being, there is still much buzz and excitement surrounding the not-yet-confirmed line, as most of us—without celebrity big budgets—will probably never be able to afford our own Marchesa dress.
The designers of the line, Georgina Chapman and Keren Craig, created diffusion line Notte by Marchesa in 2006. The price tags for this line still remained slightly high with the cheapest dresses retailing at $500.
If Marchesa were to create a collection of  separates at a lower price point, it might be a good move for the brand—especially since Chapman is becoming a household name with her stint as a judge on "Project Runway All Stars."
Based on the success of LF USA's other projects such as Daisy Fuentes for Kohl's and the Rachel Zoe Collection, we at Meets Obsession think that a lower priced Marchesa collection would surely ensure riots among the masses.
Of course, once they hit Ebay, it will be like they were never priced reasonably.
---

Bridget is a writer, stylist, and vintage clothing dealer based in Kennett Square, Pennsylvania. Bridget enjoys spending time with her boyfriend and guinea pig, and in her spare time sells vintage at local flea markets . Bridget is currently obsessed with Zooey Deschanel's wardrobe on New Girl, Moroccan food, and microcars.
All author posts