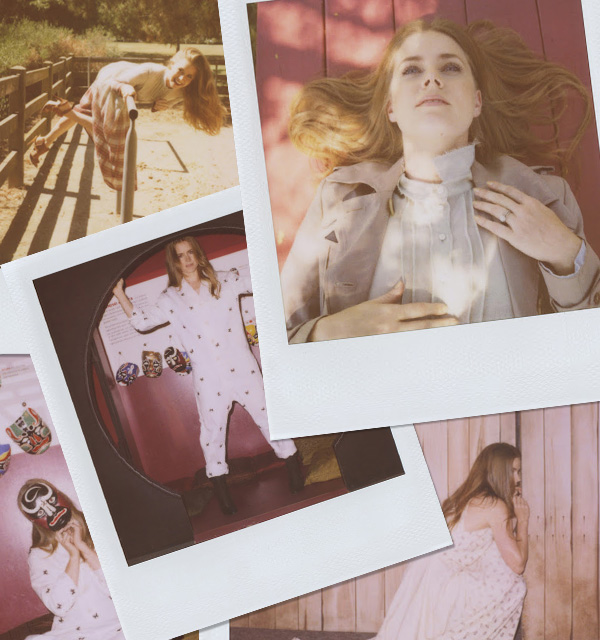 Boy. by Band of Outsiders is certainly known as the go-to brand and most ready-to-wear line for fashion-conscious fashionistas. And to showcase the wearability of their pieces, designer Scott Sternberg goes back to his Polaroid lense to create a whimsical, western themed shoot with actress Amy Adams donning the wild west like pieces for the brand's Autumn 2012 campaign.
The actress, paying homage to her western roots, was shot at The Autry Museum in Glendale California, which is a history museum that celebrates cultures of the west—a perfect venue for this collection's cowgirl meets Little House on the Prairie designs. Some of the locations feature Adams in quirky poses out on a stable, inside what appears to be a barn, a background of a painting of a bull stampede and other backdrops that capture the American West.
The shots themselves are in the typical Boy. styled Polaroid candid shots that capture the childlike aspects of the subjects in their outfits and surroundings. Adams told Vogue that she captured all the wonderment of cowboys and adventures by asking herself, "Where have all the cowboys gone?"
The pieces worn by the actress features an ombre plaid dress, tailored wool trench coats, a drop crotch jumpsuit, two piece olive skirted suit, and, our favorite, a striking halter bodice gown in which Adams posed in while taking a swig out of a flask.
The pieces themselves are simple, yet they don't lack Band of Outsider's signature tailoring, which we see tiny instances of it even in the more fluid, feminine pieces.
Designer Scott Sternberg is a genius at creating the perfect fashion moment that utilizes every factor of clothes, location, photography style, and of course, the wearer of his designs, as Amy Adams effectively created a story to match with the collection.