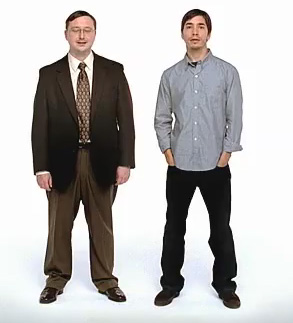 If you paid attention to television commercials in the mid 2000s, you'll probably remember those popular "I'm a Mac, and I'm a PC" commercials featuring actor Justin Long.
The popular Mac commercials featured two people named "MAC" and "PC." The PC character is portrayed as a dowdy, overweight man with a comb over wearing an ill-fitted suit, and you could easily imagine him working in an outdated office somewhere as a CPA, while Justin Long, the MAC, is characterized as a young, hip, casual guy who probably works at one of those innovative design firms where there are foosball tables in the break room and everyone sits on one if those medicine balls as chairs.
The commercials leave us wondering, in the real world, if a Mac user really is  more fashion forward than a PC user.
One company says yes.
According to research by trend tracking company Bundle, Mac users are more fashionable than PC users.
They found that Mac users have a taste for more high-end stores like Barneys and Jimmy Choo, while PC users choose brands like Perry Ellis and Nautica.
When you think about it, the study is kind of a no brainer. Mac products, whether it be a Macbook or iPad, are more expensive than PC laptops.
This doesn't mean that a PC user won't shop at upscale establishments or that a Mac user won't check out bargains at outlet stores. We all dabble in high-end and low-end stores at some point in time, and some of us have both Mac and PC products.
Plus, we're pretty certain that shopping at upscale establishments doesn't make one more or less fashionable, it's how you put your look together.
The factual research, however, does show that Mac users, for the most part, stick to high-end stores.
On Wednesday, Mac will be making an announcement that many are hoping to be a release date for the IPad 3. Perhaps another tablet will affect the research even more, as many are hopeful that the price of the iPad 2 will drop making it slightly more affordable.
Check out the chart below to see the Mac versus PC shopping comparison. You can also view more data here.