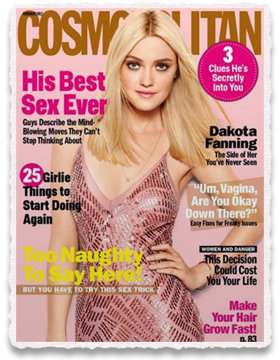 Since the dawn of the glossies, Cosmopolitan has often been the target of controversy with its explicit sex tips. This time, former model Nicole Weider started a petition to ban the magazine in stores by asking that all issues of the magazine use a transparent cover.
According to Weider, after seeing the Dakota Fanning February 2012 cover, she found herself "completely shocked at how pornographic and explicit the content had become."
Headlines on the controversial Cosmo cover read: "His Best Sex Ever," "Too Naughty To Stay Here: But You Have to Try This Sex Trick," and "Um, Vagina Are You Okay Down There?"
Weider has filed her petition via change.org and has over 20,000 supporters so far.
On her petition website, she writes:
This publication has steadily declined into a full-on pornographic "how to" guide for teens and vulnerable young girls. Every issue dares girls and encourages them to try new sex moves (including anal sex), engage in threesomes, experient with lesbianism, have public sex, watch porn, (with specific URLS listed- October 2011 issue.) and using sex toys such as dildos, shower heads, and vibrating tongue rings to "please your man and stimulate your clitoris."This readily available magazine has become one of the media's worst influences on girls.
Join me in my fight to get Cosmopolitan sold in a nontransparent plastic bag where it's made available to adults 18 and older and our youth won't be subjected to this vulgar material. 
Weider promoted the petition on her website Project Inspired, a Christian lifestyle website that also believes that Lady Gaga is spreading "Satanic messages" through her music.
On the petition website, one reader writes that she's alarmed by the use of 17-year-old cover model Fanning, who she says Cosmopolitan used to aim their sex how-tos and risqué headlines toward teens.
This isn't the first time that critics slammed Fanning's image for promoting young teen sexuality.  In November, Britain banned Fanning's Marc Jacobs perfume ads citing that they were too 'sexually provocative.'
Former Cosmo Editor-In-Chief, Bonnie Fuller defends the magazine in a Huffington Post article, writing:
Media critics should stop insulting women's intelligence by saying Dakota's too young to be on the cover of Cosmopolitan magazine!
Puhleeze! Can the prudes who are in a tizzy over almost 18-year-old Dakota Fanning appearing on the February cover of American Cosmopolitan please get their knickers out of a knot?
According to National Health Statistics, the average age in the US for first sexual intercourse among females is at age 17.3.
Besides, the popularity of Jersey Shore and Kim Kardashian is enough proof that in our society, sex simply sells.
And Cosmopolitan magazine is no different.
This is a battle bigger than Cosmo, it's a whole industry.
What do you think? Should Cosmo magazine be required to use a transparent cover in supermarkets?