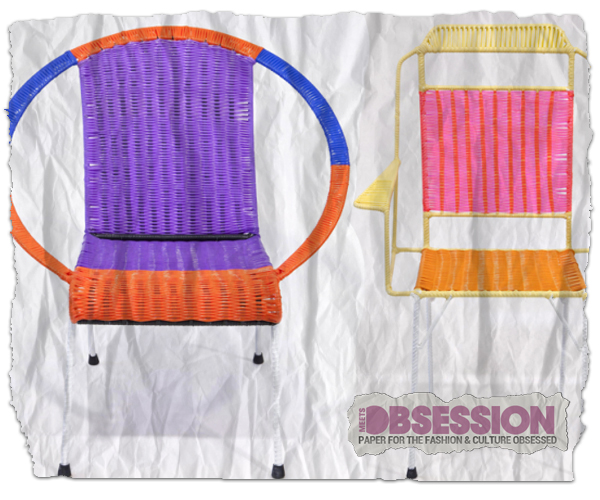 Trade show Salone del Mobile 2012 kicked off this Tuesday with a six-day event that allows home design brands to showcase their new furnishings for the year.
Fashion brand Marni sits among the designs of the exhibitors found at Salone del Mobile with a collection of chairs designed by ex- convicts.
The 100-piece collection, which happens to be designed with Marni signature bold colors and a playful aesthetic, features colorful PVC threads as the back and armrests enclosed in a square and circle shaped metal structures—all made by talented Columbian ex-prisoners.
The venture was created to help the prisoners get re-acquainted back to social and working life—a move made similar by Filipino designer Puey Quinones, which the world will soon see in his upcoming documentary, "The World's Most Fashionable Prison."
The Marni furniture collection, which is inspired by the common seat–a simple piece of furniture that is popular within Colombian families, is also affiliated with the "L'Arte del Ritratto" project, a photo exhibition made in collaboration with Francesco Jodice, a photographer and filmmaker as well as the founder of the Multiplicity Group. Jodice's work revolves around his interest of analyzing and cataloging new relationships that are formed between urban design and social behavior.
The photos' subjects are Marni employees from different departments sitting on the chairs in an arrangement that represents the brand's family orientated work ethic and a tribute to their long time together.
In addition to showing their charitable side, which is not the first time the Italian brand has been giving back to it's community, the funds from the chairs will be donated to ICAM of Milan, an organization dedicated to finding a family home for children of imprisoned mothers.
Individual  furniture pieces will retail  between €200 to 450 ($260-590).
The photos will presented at the Milan Marni boutique during Salone and published online on Marni's online magazine, ANTICAMERA2.