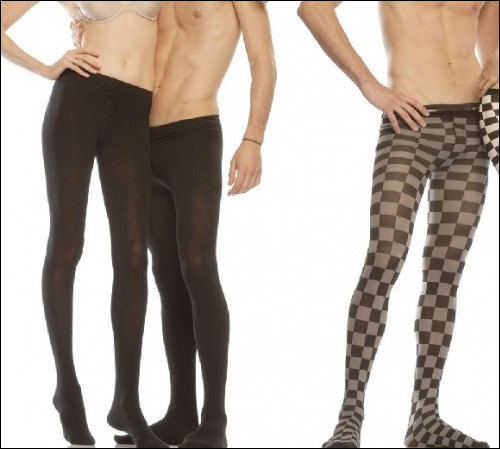 Courtesy Photo Emilio Cavallini
A wise man said, "without great risk, there is no reward," and in fashion, the rules haven't changed, well, except in the case of the new mantyhose trend.
Meet Emilio Cavallini, a legwear designer that specializes in unisex pantyhose.
According to Cavallini, who started pantyhose production for men in 2009, there is a market for men's pantyhose—which accounts for roughly 3% of sales of his one million tights produced annually.
And if you're thinking that Cavallini's company is the  go-to for cross dressers and Robin Hood impersonators, think again.
In fact, Cavallini says the tights are popular with men in Europe who like to wear the pantyhose with shorts as well as those men who wear them to keep warm under their clothing.
……………………………
Photo from e-MANcipate magazine features model wearing hosiery
……………………………
But Cavallini's sister Lisa Cavallini, president of Mostlytights LLC, cites that fashion is a "big factor" and the mantyhose man wears tights mainly to "make a fashion statement.
Also trending these days are websites dedicated to mantyhose-loving men.
One website, e-MANcipate, is an online magazine dedicated to accelerating "the acceptance of male pantyhose as a regular clothing item." Within the digital pages, fashion spreads show men wearing panty-hose friendly styled looks. The magazine also offers fashion tips and advice.
Surprisingly, some of the looks don't seem to look as silly as one would imagine a male wearing pantyhose would be.
Regardless, we're not sold.
We're adding this trend to our "do not disturb" box along with  Uggs, pajama jeans and mankinis.