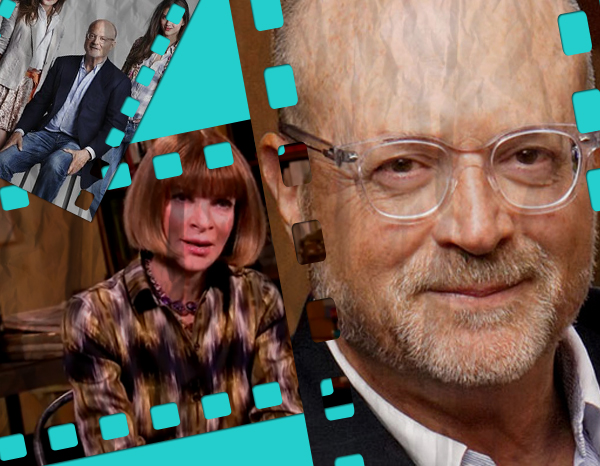 Photos courtesy of CNBC
In last couple of years J. Crew went from just another preppy mall retailer to a brand that has revolutionized American basics.
Like many American revival stories, it took a couple of geniuses like Jenna Lyons and Mickey Drexler to turn it around, which is captured in the upcoming CNBC documentary, "J. Crew and the Man who Dressed America."
We've been totally immersed in the works of Creative Director/President, Jenna Lyons, who has taken the usual J. Crew preppy staples, such as the polo shirt, khakis, classic blazers, and nicely fitted white shirts, by changing the way they're usually presented. She's shown us how to streamline our closets and make the most out of our pieces.
But the man of the moment, who seemed to have been shadowed under Lyons' magnificent work, is CEO Mickey Drexler. "The Man who Dressed America" received this alias from his retail past, which consists of serving as President, then CEO of GAP,  and he has also served  on the Board of Directors for Apple.
The documentary will reveal the inner workings of J.Crew: fabric sourcing in Italy with Mickey, catalog styling with Jenna, and working up some strategies to maximize J.Crew stores' revenue in the new challenging Internet age of retail. This formula obviously works, seeing as he drove the company's revenues up 170% by providing the masses with designer quality clothing.
Mickey's contribution is expansive and industry powerhouses Anna Wintour and Libby Wadle, who will also make an appearance in the documentary, explain how the brand did not even enter fashion conversation until he came into the picture.
Now the brand for the masses has garnered not only everyday Americans, but notable clientele such as First Lady Michelle Obama, is also a fan. And in recent times, J. Crew has collaborated with edgier designers like Pamela Love and Altuzarra.
In addition to all the excitement of the inner workings of Mickey's business fashion career, the documentary will also reveal the smaller workings of his private life—in addition to striding around J. Crew stores and fabric mills, the camera takes us to his house in the Hamptons and his old neighborhood and friends in the Bronx.
Clearly, Drexler is a man of many sides, which fosters his creative business moves and fosters the success of J. Crew.
The documentary will air on CNBC this Thursday, May 24th at 10 pm.