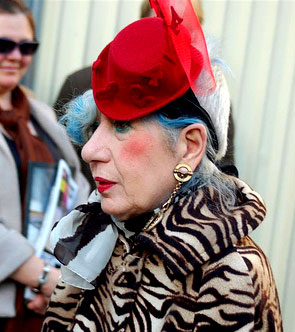 There are colorful birds in the fashion world. Despite the trends for any season, their feathers are always bright and exotic, even when the front row is filled with dull crows and sparrows.
Some of these birds include Anna Dello Russo, Iris Apfel, and the late Anna Piaggi.
Piaggi, who passed away on August 7th, was a writer for Vogue Italia as well as a driving force in the vintage clothing movement in Italy. During a ceremony at Milan Fashion Week, her siblings announced that they would start a foundation to preserve her clothing.
Piaggi was partial to dresses and it is said that she had over 2,000 of them. Aside from her love of dresses she also had an extensive accessory collection, filled with many shoes and hats.
In attendance at Piaggi's service  was Italian fashion elite Giuseppe Zanotti, Carla Fendi, and Rosita Missoni.
Her friend Manolo Blahnik made kind and loving remarks stating that, "I miss Anna's voice. Milan is no longer Milan for me without Anna. I miss her, et voilà."
Thanks to Anna's brothers, Alberto and Stefano, her collection of sartorial art will be preserved for generations to enjoy.
Her colorful spirit has made its mark on the fashion community and will continue to do so for years to come. Surely, we can expect to see a  future MET collection based on the style of Anna Piaggi.
[divider]
Photo: Captain Catan
---

Bridget is a writer, stylist, and vintage clothing dealer based in Kennett Square, Pennsylvania. Bridget enjoys spending time with her boyfriend and guinea pig, and in her spare time sells vintage at local flea markets . Bridget is currently obsessed with Zooey Deschanel's wardrobe on New Girl, Moroccan food, and microcars.
All author posts